Mammals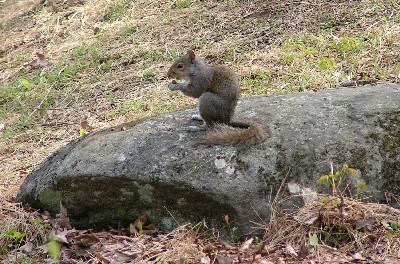 Gettysburg National Military Park is home to many of the common species of mammals found in south-central Pennsylvania. Among the most common mammals found in the park, the most visible are Gray Squirrels and Red Squirrels that inhabit park trees and Eastern Chipmunks that inhabit burrows in woods and the numerous stone walls around the park. The woods also support the Southern Flying Squirrel and a variety of rodents such as the White-footed mouse and moles.
Pennsylvania is the home of eastern White-tailed Deer, a species that has flourished in the Commonwealth over the past 80 years. Hunted in state game lands and on private property outside of park boundaries, deer instinctively made the battlefield a permanent home, which resulted in extensive damage to the natural environment as well as crops and pastureland. The National Park Service has undertaken an extensive deer control program which has reduced the population of white-tailed deer within the park boundary over the past ten years. Though the population of deer has been reduced in the park, there are still many of these hearty animals that can still be observed, usually around dusk when they come out to graze in meadows and tall grass.
The most common flying mammal at Gettysburg is the Eastern Brown Bat or "Little brown myotis". Bats are an important part of the natural environment and help control the insect population. Bats are night flyers and can be spotted on park grounds in the early evening, from March through November.
The battlefield is home to many other mammals not always seen by park visitors. Among these are the Eastern Cottontail Rabbit, Opossum, Raccoon, ground hogs, and Red and Gray foxes. And like the rest of Pennsylvania, Gettysburg is home to the Striped Skunk, one of nature's mammals that one would be wise to avoid.
Last updated: February 26, 2015