Amphibians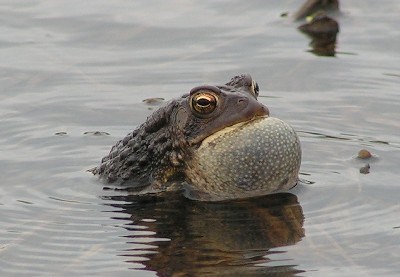 Inventory and monitoring surveys in 2000 and 2001 identified fifteen species of amphibians in Gettysburg NMP. Of these fifteen species, eight were frogs, four were salamanders, two were toads, and one newt. Most of these species occupy wetland and pond habitat within the park.
One can not mistake the low "a-ruumm a-ruumm" call of the bullfrog on a late summer afternoon. These calls and the sound of splashes as they plunk into the water are distinctive identifications of the presence of the large green frogs. Park visitors may also recognize the swift "peep peep peep" of the spring peeper's chorus on a warm evening.
The silent salamanders of the park are not as easy to find. They are typically inactive during the day so it is not common for visitors to come upon them. But the lifting of a log may reveal a moist home abundant with the smooth-skinned, lizard-like creatures.
An amphibian survey is planned for the summer of 2004 to identify and record breeding frogs within the park. Wood frog and spotted salamander egg mass count projects are also planned for the summer of 2004 to determine available habitat.
Last updated: February 26, 2015