Culp's Hill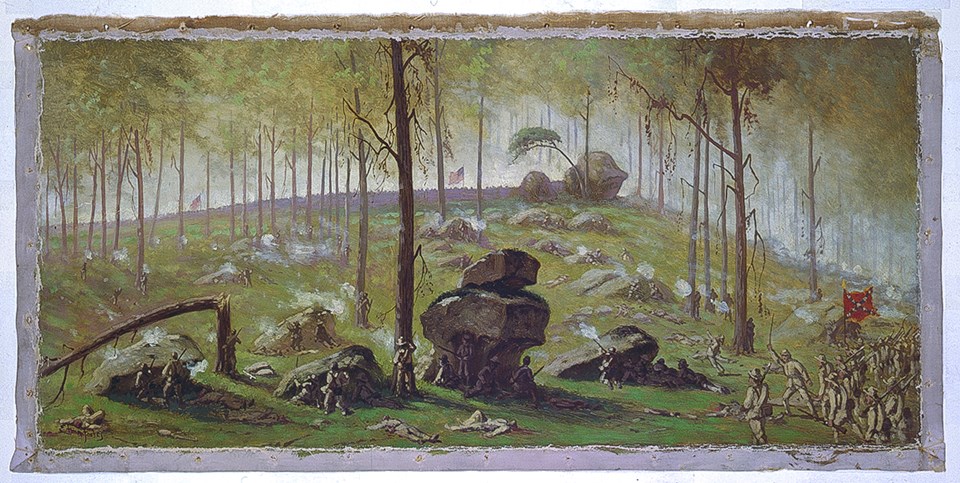 Culp's Hill during the battle

Culp's Hill, occupied by Union troops all three days of the battle, was the critical right flank of the Union defensive line at Gettysburg. At mid-morning on July 2, elements of the Twelfth Corps arrived to reinforce the hill, including the 1,400 man brigade of George S. Greene. He reported, "As soon as we were in position, we began to intrench ourselves and throw up breastworks..."

That night, his New Yorkers successfully held off 4,700 Confederates and held the upper summit. Before sunrise on July 3, fighting resumed with 22,000 Union and Confederate soldiers battling for the hill. One Union solider said, "The whole hillside seemed enveloped in a blaze." The Southerners attacked three times, but after six hours of fighting, the Union line held firm.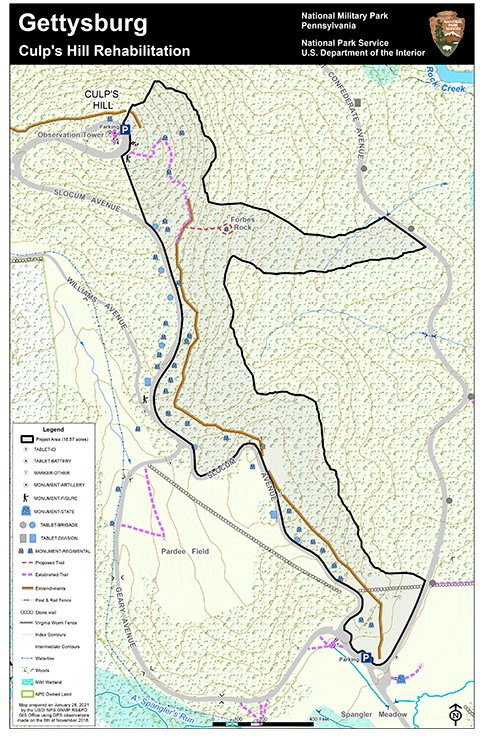 Rehabilitation Project Overview
Gettysburg National Military Park and the
Gettysburg Foundation
have partnered on a Culp's Hill rehabilitation project. The project has improved the cultural and natural landscape of 18-acres of Culp's Hill where key battle action occurred on July 2-3, 1863. (See black outlined area on the map at right.) Work included the removal of brush and select understory (trees five inches or less in diameter) along the east side of Union earthworks from the Spangler's Spring area to the summit of Culp's Hill. Select larger diameter trees growing within the earthworks were felled in place. In addition to the increased visibility within the woodlot, additional interpretive signage and improved visitor access has been provided to historically significant features along the battlelines.
Rehabilitation work began in early February, 2021 and was completed in late May, 2021 with the help of the
American Conservation Experience
(ACE). ACE is a non-profit organization dedicated to providing rewarding environmental service opportunities for youth of all backgrounds to explore and improve public lands. The ACE crew treated invasive woody trees, shrubs, and herbaceous plants on all earthworks stretching from Spangler's Spring to the summit of Culp's Hill. ACE also constructed a new trail from the summit of Culp's Hill to Forbes Rock, a prominent landmark on the 1863 battlefield named after the artist and war correspondent, Edwin Forbes.

Suggested Reading
Culp's and Cemetery Hill ~ by Harry Pfanz

Culp's Hill at Gettysburg: "The Mountain Trembled" ~ by John M. Archer

A Field Guide to Gettysburg: Experiencing the Battlefield through Its History, Places, and People ~ by Carol Reardon & Tom Vossler
Last updated: January 20, 2022