Summer Internship Program in Interpretation, Education, and Visitor Services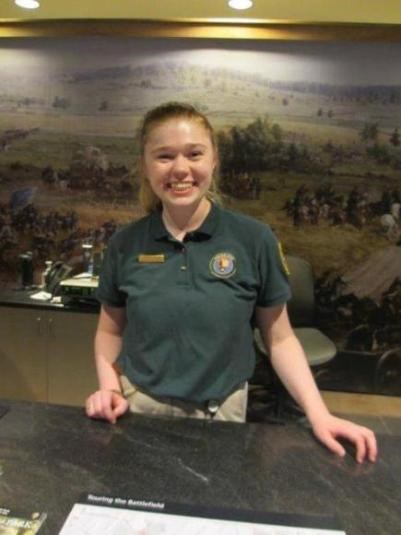 Gettysburg National Military Park's
Summer Internship Program in Interpretation, Education and Visitor Services
NATURE OF WORK/PRIMARY RESPONSIBILITIES:
Our summer internship at Gettysburg consists of four things: visitor services; program research, development and presentation; and working with children and families.

Visitor Services: Interns help staff the information desk at our visitor center, and rove throughout the museum and visitor center and areas of the 6,000-acre park. This offers experience in greeting the public, providing information for their visit, and following all building and safety operating procedures.

Research: Interns will gain experience in researching and analyzing primary and secondary sources. Through the documents, diaries, letters, monographs and material culture contained in the collection of Gettysburg National Military Park, interns will assist park staff in crafting compelling experiences for the visiting public, connecting them to the history of the Gettysburg battlefield.

Program Development: Interns are also responsible for researching, preparing, and presenting interpretive programs. First programs are almost always tours of the Soldiers' National Cemetery where President Lincoln delivered the Gettysburg Address. Second and sometimes third programs are chosen and prepared as the summer progresses, in cooperation with supervisor, from among the other interpretive programs offered each day. There are first-person interpretation opportunities if interested, especially around Battle Anniversary. Interns are also highly encouraged to assist in developing videos and other content for the park website, blog, and social media sites.

Working with Children and Families: Interns also assist with the daily "Join the Army" children's program, coordinate and present the daily hands-on history cart program, and work with families and children throughout much of the battle anniversary and other special events. Working with families and children develops important and necessary skills for anyone looking for an NPS career.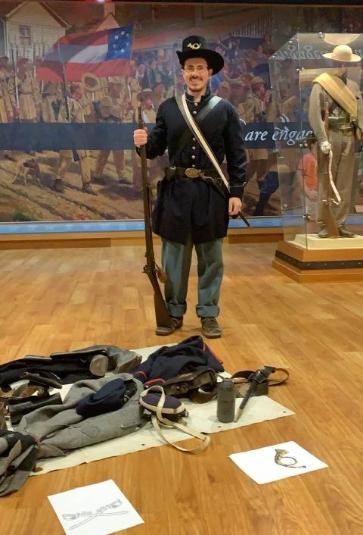 TRAINING AND WORK SCHEDULE:
Two weeks of required training on all four areas (above) is provided, and begins (most likely) on Tuesday, May 31. The summer season runs through mid-August, and interns should plan on working as much of that season as possible. The typical workday for an Intern is 8:00 a.m. to 5:00 p.m., but can sometimes be 9:00 a.m. to 6:00 p.m.. Interns will also have two consecutive days off each week, though will be expected to work weekends and holidays. Also, throughout the summer we provide additional opportunities for behind-the-scenes opportunities and to learn about other park service careers in museology, preservation, public information and more; the culmination of this training is a session on USAJobs application procedures.

SKILLS DESIRED:
Gettysburg National Military Park interns must be comfortable speaking publicly to large and diverse groups. The ability to conduct research using secondary and primary source material is also a valued skill. A friendly, engaging, and professional demeanor is absolutely necessary. Additionally, experience in effectively working with families and children (or a willingness to learn how to do so) is valued. Finally, since interns live and work together during a very hectic summer, the ability to work and communicate as a team is necessary.

TRANSPORTATION: A vehicle is strongly recommended. Most intern housing is not within walking distance of the museum and visitor center and a vehicle will be necessary to travel throughout the park for programs, roves, special events etc., as well as to nearby shopping facilities.

CLASS YEAR PREFERRED: Students who have just completed their junior year are preferred, but all qualified candidates will be fully considered.
Note: This program is for undergraduate students only.

PARK/ORGANIZATION SETTING: The division of interpretation is comprised of 13 permanent employees, as well as 10 seasonal rangers during the summer months. Gettysburg National Military Park is a very busy place during the summer season, with thousands of visitors per day. Interns will split their time between the visitor center and the outdoors. There are usually a total of 5 interpretation interns at Gettysburg, and 2 research interns. Additionally there are five interpretation interns at Eisenhower National Historic Site, and additional resource management, maintenance, visual information, and law enforcement interns and seasonal staff that interns may also live and work alongside.

HOUSING ACCOMMODATIONS: Free shared housing is available within the park; most houses are shared and wifi is available but limited. Park housing is furnished, with parking and laundry facilities.

COMPENSATION: Free shared housing and daily workday stipend is typically provided.

NUMBER OF AVAILABLE POSITIONS: A very limited number of internship positions are available each year. We receive many more applications than we have positions.

APPLICATION PROCEDURES:
Submit a (1). cover letter (format as a letter addressed to Selection Committee, and discuss how the internship would help you develop skills toward your ultimate career goals), (2). resume (include work and volunteer experience, as well as relevant coursework), and a (3). reference list of 3-5 academic, professional and/or personal references (please no reference letters). We prefer that these are sent by attachment to GETT_Education@nps.gov. All application materials must be received by close-of-business on December 31, 2022 to be considered.

Typically we then conduct phone interviews of the top 6-8 candidates, and make final selections by mid-February. Please understand that these are very competitive internships, and that the selection committee chooses the team they think can best learn from the internship as well as best contribute to the summer season at Gettysburg. Further inquiries via email only please.

Also, many other national parks offer summer internship opportunities; please contact other parks that you are interested in to further inquire about their specific programs as well.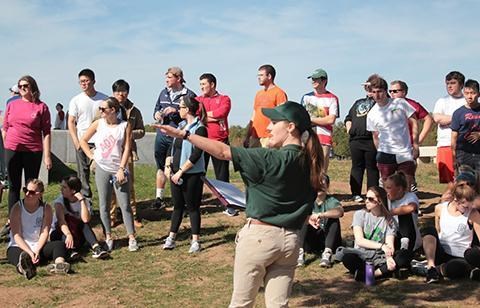 Last updated: September 19, 2022