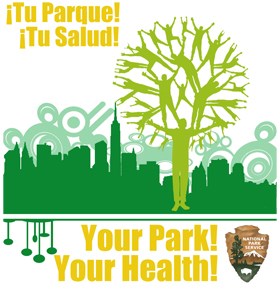 Your Park! Your Health! inspires dynamic engagement between diverse audiences in NYC / NJ and their national park!
Over the summer, a team of multi-cultural college interns work to achieve their personal fitness goals while leading fun adventures in New York City's urban outback.
Lets Go To Gateway!
Originally titled ¡Tu Parque! ¡Tu Salúd!, the initiative began in 2011 with funding through a grant from the American Heart Association to engage Latino New Yorkers in active outdoor recreation. Reflecting the program's growing popularity and cultural diversity among participants, the title was changed in 2012 to Your Park! Your Health!.
Now entering our 6th season, Your Park! Your Health! continues to grow in partnership with six local and national agencies to encourage holistic community wellness and invite participation with the park.
Your Park! Your Health! 'Lets Go!' activities are offered in all parts of Gateway including Staten Island and Sandy Hook, NJ.