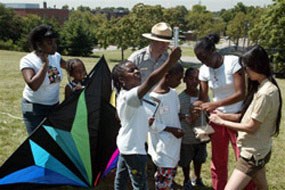 Staten Island
Let's Fly a Kite - Program for Adults and Children
Miller Field Ranger Station Building 26 Saturday, May 2 at noon
Join a National Park Service ranger to build your own kite and launch it from our historic airfield. All materials will be provided. Families and children of all ages welcome. Reservations required. Call: (718) 351– 6970
Art Show Frederick Law Olmsted: Founder of Landscape Architecture in America's Parks
Fort Wadsworth Visitor Center
April 19-June 5 Celebrate the work of artist Beryl Brenner. Ms. Brenner's work is composed of fused glass and mixed media which provides a virtual tour of the intriguing Olmsted landscapes that exist throughout North America. Olmsted, who once lived on Staten Island, is also remembered for his design of Central Park.
Jamaica Bay
Every Saturday, Historic Aircraft Restoration Project Floyd
Bennett Field Hangar B Tuesdays, Thursdays, Saturdays 9 a.m. – 4 p.m. Explore our collection of vintage aircraft and talk with the skilled park volunteers who are restoring them to their former glory.
Sandy Hook
May 2, at 10:00 a.m., Spring Birding
Sandy Hook Visitor Center Saturday May 2 at 10 a.m. Join naturalists from the New Jersey Audubon Society for two hours of birding during the best month for warblers and other songbirds. 400th Anniversary of Henry Hudson's landing on Sandy Hook Meet at Parking Area N, ¼ mile north of Ranger Station
Sunday May 3, at 2 p.m., Celebrate Monmouth History Days
Join us for a walking tour on Sandy Hook. The explorer Henry Hudson first landed here in 1609. Join a Ranger for a trip back into the past to see how Sandy Hook has - and hasn't - changed in the last 400 years. Wear walking shoes and bring bug repellant.
Sandy Hook Visitor Center
Daily, 10 a.m. to 5 p.m. The 1894 Spermaceti Cove U.S. Life-Saving Station. Features exhibits and a bookstore. 732-872-5970
Sandy Hook Lighthouse Keepers Quarters
Weekends, Noon to 4:30 p.m. (Weekdays, 1 p.m. to 5 p.m.) The 1884 Keepers Quarters has exhibits on New Jersey Lighthouses. The nearby Keepers barn is always open with a video on the Lighthouse history. In May, the New Jersey Lighthouse Society will display their entries in their annual Lighthouse Photography Contest.
Sandy Hook Lighthouse Tours
Weekends, Noon to 4:30 p.m. (Weekdays, 1 p.m. to 4:30 p.m.) Tours are first-come, first-served. You must be 48 inches tall to climb the tower.
History House
Weekends, 1 p.m. to 5 p.m. This lieutenant's quarters on Officers Row overlooks Sandy Hook Bay. It's now restored and furnished to the 1940s, the peak years of Fort Hancock operations.
Sandy Hook Bird Observatory
Building 20, Fort Hancock's Officers Row Tuesdays through Saturdays, 10 a.m. to 5 p.m. Sundays, 10 a.m. to 3 p.m. New Jersey Audubon Society field center with a bookshop and displays. Call 732-872-2500
Sandy Hook Spring Migration Watch Observation Deck at North Pond Daily, March 15 through May 15, 9 a.m. to 5 p.m. Each Spring New Jersey Audubon's Sandy Hook Bird Observatory sponsors a spring count of migratory birds. The watch is manned daily (weather permitting) from 9 am to 5 pm; visitors are welcome any time. For more information please contact the Sandy Hook Bird Observatory at 732-872-2500 or shbo@njaudubon.org .
REMINDER:
Sandy Hook 2009 Summer Season Beach Pass On Sale Now at the Sandy Hook Ranger Station. Available daily 9 a.m. to 4 p.m.