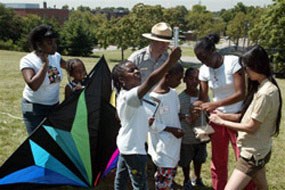 For a complete listing of weekly programs at Gateway see our events page.
Sandy Hook Programs
Woodcock and Osprey Walk
Sandy Hook Visitor Center
Saturday, March 28 at 7 p.m.
See the Osprey known as a "fish hawk" and search for American Woodcocks.
Museum Collection Open
House – Behind the Scenes
Building 47, Fort Hancock
Building 25, Fort Hancock
Sunday, March 29, 1 p.m. to 4 p.m.
Visit the newly renovated Museum Collection Storage in Building 47 and see some of Sandy Hook's historic treasures. Then, drive to the Fort Hancock Parking Lot and walk to Building 25 to see the future Sandy Hook Visitor Center and get a sneak peek at the scale model exhibits in this 17,000 square foot building.
Staten Island Programs
Quilling
Mont Sec House 112A
Mont Sec Avenue Fort Wadsworth
Sunday, March 29 1 p.m. – 4 p.m.
Quilling was a popular craft among women of high society during the 18th and 19th centuries. Try your hand at this age-old art and create designs from long, thin strips of paper. This program is best suited for adults. There will also be a tour of historic Mont Sec House. Reservations required.
Jamaica Bay Programs
NYC Audubon
Early Spring Bird Walk
Jamaica Bay Wildlife Refuge
Saturday, March 28
10 a.m. – noon
Hike around the West Pond and gardens with naturalist Don Riepe. Look for early migrating birds such as egrets, osprey and phoebes. Bring binoculars. Reservations required.
Explore the Shore
Jacob Riis Park Bathhouse
Sunday, March 29
11 a.m. – noon
Explore the forces shaping the beach during this hour long ranger – led program. Wear waterproof footwear. Reservations required.