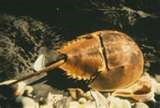 For a complete listing of all our summer programs see www.nps.gov/gate homepage and visit the Jamaica Bay, Sandy Hook and Staten Island Program Guides.
Jamaica Bay Programs
Horseshoe Crabs and the Rose Moon
Jamaica Bay Wildlife Refuge
Saturday, June 6, 7-9 p.m.
It's almost the Rose moon and the tide is high - just the time for the romancing routine of the horseshoe crab. Join a park ranger for a walk to a prime horseshore crab spot and then for a moonlit walk back. Bring a flashlight and insect protection. Wear waterproof footwear. Reservations required. (718) 318-4340
High Time for Horseshoe Crabs
Jamaica Bay Wildlife Refuge
Sunday, June 6
10 a.m. - noon
It's peak time to see horseshoe crabs in the midst of their mating season. Join a park range on this walk to see these ancient and fascinating creatures. Wear waterproof footwear. Bring drinking water, insect and sun protection. Reservations required. (718) 318-4340
Sandy Hook Programs
Sandy Hook Lighthouse Day,
Sunday June 7, 12 p.m. to 4 p.m.
Commemorate the first lighting of the Sandy Hook Lighthouse in 1764. There will be a birthday cake at noon and a walk to see the lighthouses of New York Harbor at 2 p.m. Lighthouse tours by NJ Lighthouse Society volunteers all afternoon.
Staten Island Programs
Bug Bingo: Bugs and Their Antics
Fort Wadsworth Visitor Center
Sunday, June 7 at 1 p.m.
Family program includes a 30 minute video in our theater and then a ranger will lead the group in Bug Bingo. Reservations required.
Horseshoe Crab Walk
Great Kills Park
Education Field Station
Sunday, June 7 at 7 p.m.
Search Crooke's Point for the mysterious horseshoe crab as this ancient species comes ashore to spawn.
Treasure Your Island Family Community Awareness Day
Staten Island Jewish Communicty Center
(Located at 1466 Manor Road)
Sunday, June 7, noon-4 p.m.
National Park Service rangers and volunteers will represent Gateway during this exciting community day. The event will feature the theater and culture of Staten Island. For more information call (718) 475-5201