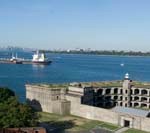 For a complete listing of programs see our events page.
Jamaica Bay Programs
Stargazing
Floyd Bennett Field
Radio Controlled Flying Field
Friday, April 3
8 p.m. – 10 p.m.
Come on star gazers! Get a head start on the weekend Friday night! Observe the stars over Brooklyn. Telescopes provided. Dress warmly.
Landscapes of the Jamaica Bay Wildlife Refuge
Jamaica Bay Wildlife Refuge Visitor Center
Saturday, April 4, 2009
"Landscapes of the Jamaica Bay Wildlife Refuge," an exhibition of photography by Rosalie Frost, will open at the visitor center of the Jamaica Bay Wildlife Refuge and be up until Sunday, June 28, 2009. Ms. Frost has been involved with photography for the last thirty years. During this time nature photography has been intertwined with other subjects. It is recently that she has begun to focus in on nature and the refuge has offered her plenty of material. The exhibit is open and free during visitor center hours, 7 days a week from 8:30 a.m. until 5:00 p.m. until Sunday, June 28. For more information, phone: 718-318-4340.
Junior Ranger
Jacob Riis Park Bathhouse
Sunday, April 5
10 a.m. – 11:30 a.m.
Calling children of all ages! Join a ranger and explore the nature and history of Jacob Riis Park. Reservations required.
Late – riser Bird Walk Late – riser Bird Walk
Jamaica Bay Wildlife Refuge
Sunday, April 5
1 p.m. – 2:30 p.m.
Hey there sleepy head....not everyone can catch the early bird. Amble through the gardens and around part of the West Pond to see who is up at this late hour. Bring binoculars. Reservations required.
Sandy Hook Programs
Birding for Beginners
Sandy Hook Visitor Center
Sunday April 5 at 10 a.m.

Join naturalists from the New Jersey Audubon Society for a two-hour introduction to birding at Sandy Hook. Early spring brings a variety of ducks, loons, and hawks."
Staten Island Programs
You're on your own! No "special" programs this weekend but come and explore the park anyway. Walk on the beach at Great Kills, fly a kite at Miller Field, or enjoy the views and history at Fort Wadsworth.
Great Ranger Led Programs
Fort Wadsworth Visitor Center
718-354-4500
2:30 pm
The Fort Wadsworth Visitor Center is open Saturday and Sunday from 10 a.m.. Ranger led tours start at 2:30 p.m.. Wednesday through Sunday.
Miller Field
718-351-6970
The ranger station is open Wednesday - Sunday 9 am to 4:30 pm.
For information on programs at other units of Gateway NRA, contact:
Jamaica Bay Unit, New York
(718) 338 – 3799
Sandy Hook Unit, New Jersey
(732) 872 - 5970
Gateway NRA
Office of Communications and Public Affairs (718) 354 – 4606
www.nps.gov/gate
Programs are subject to change due to weather or other concerns. Please call the park before attending.