This Week at Gateway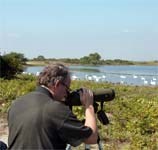 Programs for the Weekend of March 21-22
For a complete listing of park programs see our events page.
Jamaica Bay:
Faces of Change
Jacob Riis Park Bathhouse
Sunday, March 22
2 p.m. – 3 p.m.
Learn about the people who have helped preserve and protect Jacob Riis Park through the years. Reservations required.
Tour the Tip at Breezy
Fort Tilden Building 1
Saturday, March 21
10 a.m. – noon
American Littoral Society naturalist Mickey Maxwell Cohen leads this three-mile nature walk around the wild, western tip of the Rockaway Peninsula. Participants will carpool to the site from Fort Tilden. Binoculars and magnifying glass will be helpful. Reservations required.
Step into Spring
Jamaica Bay Wildlife Refuge
Saturday, March 21
2 p.m. – 3:30 p.m.
Explore the West Pond Trail with a park ranger on the first full day of spring. Bring binoculars. Reservations required.
Operation Beach Sweep
Jacob Riis Park Bathhouse
Sunday, March 22
10 a.m. – noon
Assist park staff with a beach cleanup at the Breezy Point Tip. Catch a glimpse of shorebirds as they wing their way back north. Dress for the weather and bring work gloves. Reservations required.
Sandy Hook
Early Spring Birding
Sandy Hook Visitor Center
Saturday March 21 at 10 a.m.
Join a naturalist from the New Jersey Audubon Society for a two-hour bird walk in search of migrating waterfowl and raptors.
Battery Gunnison Preserved
Saturday March 21, noon to 4 p.m.
Sunday, March 22, noon to 3 p.m.
The Army Ground Forces Association is a volunteer group in 1943 era coast artillery uniform who restore and interpret Battery Gunnison and its 6-inch guns. Visitors are invited to stop by on this work day to chat.
Staten Island
The Civil War's Impact on Women's Rights
Fort Wadsworth Visitor Center
Saturday, March 21 1 p.m. - 2:15 p.m.
Discover the efforts of female abolitionists before and during the Civil War. This "first wave" of U.S. feminists struggled for equal rights, including the right to vote. Program will end in time for the 2:30 Fort Tour.
Gateway National Recreation Area Contact Numbers:
Jamaica Bay, New York
718-338-3799
Sandy Hook, New Jersey
732-872-5970
Public Affairs Office
Staten Island, New York
718-354-4607
Last updated: March 31, 2012