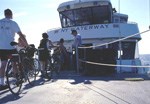 Jamaica Bay Programs
Canarsie Concert Series
Canarsie Pier
Thursday Nights
July 9 – August 27
7 p.m. – 9 p.m.
Listen to the live sounds of jazz, R & B, pop, and old school music. And make sounds of your own on Open Mike Nights: July 16, August 6, and August 27; arrive 30 minutes early to register for open mic.
Historic Aircraft Restoration Project (HARP)
Floyd Bennett Field
Hangar B
Tuesdays, Thursdays, Saturdays, and Sundays, 9 a.m. – 4 p.m.
The volunteers from the Historic Aircraft Restoration Project will be available to give tours of the vintage aircraft they work so hard to restore.
Introduction to Canoeing
Gateway Marina
(Across from Floyd Bennett Field)
Saturday, June 21, July 12, 26 and August 2, 9, 30
10 a.m. – noon
No boating experience required. Participants should expect physical exertion.Bring water and sunscreen. There is a fee. Space is limited and reservations are required.
Individual Sailing Instruction Program
Gateway Marina
(Across from Floyd Bennett Field)
Thursdays, June 25 – August 27
6 p.m. – 8 p.m.
This program will provide beginner and intermediate sailing instruction. There is a fee and space is limited. Make reservations after June 1st. Call (718) 338 – 3799.
Youth Group Camping
Floyd Bennett Field
Ecology Village
Mondays through Thursdays
July 6 – August 27
Kids camp overnight in tents, prepare meals outdoors, practice teamwork and explore nature in the urban outback of Floyd Bennett Field. Call (718) 338- 4306 for information on leader training, fees and scheduling.
Youth Group Sailing
Gateway Marina
(Across from Floyd Bennett Field)
Tuesdays, Wednesdays and Thursdays, July 6 – August 27
9 a.m. – noon
Youth groups develop an appreciation of local natural resources while learning the basics of sailing. Program accommodates 25 participants per day.
Space is limited and reservations are required. Call (718) 338 – 3799.
Jacob Riis Park Tour
Jacob Riis Park
Bathhouse Entry Pavilion
Saturdays and Sundays
2 p.m. – 3 p.m.
Join a park ranger on a walking tour of historic Jacob Riis Park.
Kayaking "Try – out"
Canarsie Pier
East Beach
Friday – Monday
July 10 – August 31
10 a.m. – 2 p.m.
First timer paddlers can try kayaking on Jamaica Bay. Kayaks and life vests will be provided. Wear comfortable clothing. For ages 10 and up. Call (718)338 – 3799 for more information.
Night of the Moths
Jamaica Bay Wildlife Refuge
Friday, July 17
8 p.m. – 10 p.m.
Discover these often overlooked and seldom seen inhabitants of the night with moth expert Steve Walter. After an introduction to the moths of Jamaica Bay, step outside into their world. Reservations required:(718) 318 - 4340
Surf Casting Clinic
Jacob Riis Park
Bathhouse Entry Pavilion
Saturday, July 18
9 a.m. – 11 a.m.
Learn the basics of surf fishing with the Gateway Striper Club during a morning of fun and fish. Afterwards continue fishing along Fort Tilden Beach. Bring a rod and reel if you have one. Reservations required: (718) 318 - 4300
Osprey Observation
Jamaica Bay Wildlife Refuge
Saturday, July 18
10 a.m. – 11 a.m.
2 p.m. – 3 p.m.
You have two opportunities today to experience the excitement of observing an Osprey family with a park ranger, plus get a sense of the nature of the West Pond Trail. Bring binoculars, insect and sun protection. Reservations required: (718) 318 - 4340
Breezy Birds
Fort Tilden
Building 1
Sunday, July 19
8:30 a.m. – 11 a.m.
Piping plovers, common terns, and black skimmers are raising their young on the beaches of Breezy Point. Come visit the beach bird families with naturalist Ron Bourque. Participants will carpool from Fort Tilden to program site. Bring binoculars, drinking water, insect and sun protection. Reservations required.
Afternoon Eco-Cruise
Riis Landing
Sunday, July 19
1 p.m. – 2:30 p.m.
$6.00 per person
Come aboard and join the National Park Service for this waterborne eco – tour and exploration of Jamaica Bay's natural wonders. Bring binoculars, insect and sunscreen protection. For more information call (718) 318–4340.
Flight of the NC – 4
Jacob Riis Park
Bathhouse Entry Pavilion
Sunday, July 19
noon – 1 p.m.
Join a park ranger for a talk on the 90th Anniversary of the world's first transatlantic flight, a flight that took off from the Rockaway Naval Air Station, the present day site for Jacob Riis Park.
Sandy Hook Programs
Music on the Hook
Sandy Hook Summer Beach Concerts. On the Beach at Area E, Wednesdays at 6 p.m. The Sandy Hook Foundation sponsors this annual FREE concert series. If weather is a factor, a decision will be made at 2 p.m. on the day of the concert. Call 732-291-7733 or check www.sandyhookfoundationnj.org for rain cancellations. This week:

July 15 Bian Kirk & The Jirks: Rock & Roll
Fort Hancock Lantern Tour
Meet at the Post Theater Parking Lot
Thursday July 16 at 8:30 p.m.
Walk around the fort to learn about garrison life during World War II. Bring a flashlight.
Weird Sandy Hook
Friday July 17 (and Thursday July 30) at 8:30 p.m.
Meet at the Post Theater
There are many myths and legends about Sandy Hook, but which are fact and which are fiction? Park staff will take you on a tour to sort out which is which.
Bunker of the Week
Tuesdays at 7 p.m.
Meet at Post Theater Parking Lot
Explore a different gun battery each week.
This week! Battery Potter July 14
Canoe Sandy Hook Bay
Meet at Sandy Hook Visitor Center
Tuesdays July 14, (also 21 & 28) at 9 a.m. Thursdays July 16, (also 23 & 30) at 2 p.m. Reservations required.
Tuesday July 14, (also 21 & 28) at 2 p.m.
No reservation needed.
For individuals and families – children must be at least 7 yrs old and not afraid of the water. Wear clothes and shoes you can get wet. We provide lifejackets, canoes and instructions.
Battery Gunnison in World War II
Battery Gunnison
Every Friday in July from 1 to 5 p.m.
Beach parking fee applies at the Gunnison parking lot until 4 p.m.
Meet an historian in World War II uniform who will guide you through the battery to show you how it operated and defended New York Harbor during the war.
Also in the summer:
Sandy Hook Visitor Center
Daily, 10 a.m. to 5 p.m.
The Visitor Center is in the historic Spermaceti Cove Life-Saving Station and features exhibits and a bookstore. Call 732-872-5970.
History House
Weekends 1 p.m. to 5 p.m. Daily, beginning June 21, 1 p.m. to 5 p.m.
An 1898 lieutenant's quarters on "Officers Row" overlooking Sandy Hook Bay is furnished to the 1940s, the busiest time at Fort Hancock.
Sandy Hook Lighthouse Tours
Weekends, noon to 4:30 p.m. Weekdays, 1 p.m. to 4:30 p.m.
Tours are first-come, first-served. You must be 48 inches tall to climb the tower. Grounds and video in adjacent barn are always open. Groups must make advance reservations. Call the Visitor Center.
Sandy Hook Lighthouse Keepers Quarters
Weekends, noon to 5 p.m. Weekdays, 1 p.m. to 5 p.m. Sign up here for Lighthouse tours and see exhibits on New Jersey Lighthouses.
Sandy Hook Bird Observatory
Tuesdays through Fridays; 10 a.m. to 3 p.m.; closed weekends in July & August Building 20, Fort Hancock's Officers Row
This New Jersey Audubon Society field center has a bookshop and displays. Call 732-872-2500. Fort Hancock Museum Weekends June 20-August 22, 1 p.m. to 5 p.m. The museum is in the former post guardhouse: Dioramas of Sandy Hook and its gun batteries, photographs and artifacts from Fort Hancock's past ….and those old army jail cells.
Battery Potter
Weekends June 20 – August 22 1 p.m. to 4:30 p.m.
Explore Sandy Hook's oldest gun battery, completed in 1894. Meet at Battery Potter.
Nike Missile Radar Site
Saturdays, June 20, July 11, August 8, 3 p.m. to 8 p.m. Sundays, June 28, July 19, August 16, 3 p.m. to 8 p.m. Parking Lot L
Tour the site where radar once guided missiles that protected New York City.
Staten Island Programs
"Hoop It Up" 5-on-5 Basketball Tournament
Miller Field Ranger Station
Saturdays, July 18 & 25 at 10 a.m.
Boys and girls can 'hoop it up' with National Park Service rangers for a 5-on-5 single elimination basketball tournament. Prizes will be awarded. The deadline to sign up is June 27. The tournament is free. Registration required.
Junior Rangers
Great Kills Field Station
Great Kills Park Education Field Station
July 13 to July 16
August 17 to August 20
9:30 a.m. -noon
Children ages 8 to 13 earn a badge and patch. Topics include marine and nature study. Dress for the weather, wear appropriate outdoor shoes and bring water. Attendance on all days is not required. Reservations needed.
Tuesdays' programs are offsite and meet at Wolf's Pond Park in July; Ocean Breeze Fishing Pier in August. Call for information.
Staten Island Streetcars
Fort Wadsworth
Visitor Center
Saturday, July 18 at 1 p.m.
Take a look at how we traveled on Staten Island a century ago. Mike Schreiber of the Shore Line Trolley Museum will show us some of the vehicles our grandparents rode and tell us about some of the places they went. All Aboard!
Great Kills Park Beach Center
Sundays, July 19 & 26
noon – 2 p.m.
Ongoing activities! Explore the National Park Service portable discovery station to learn about native plants and animals. Each session will cover a different theme.