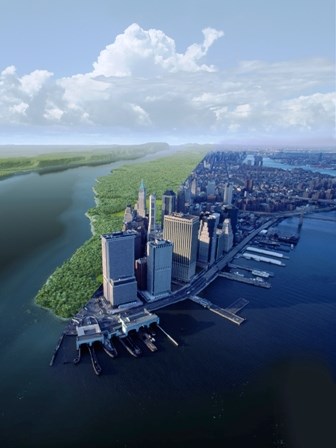 September is one busy month at Gateway. See this link for a complete listing of programs and special events you can attend.
Staten Island Unit
Special Programs to Celebrate the Henry Hudson Quadracentennial
This September marks the 400th anniversary of the European discovery of New York Harbor by Henry Hudson. His discovery and exploration of the Hudson River marked the beginning of New York City as one of the nation's most important centers for transportation and commerce.
September 3: New York Harbor as Henry Hudson Saw It; an Illustrated Lecture and Book Signing by Erik Sanderson.
Thursday, Sept. 3 at 7:30pmVisitor Center at Fort Wadsworth. Sanderson will sign copies of his recent book, Manahatta, the Natural History of New York, available at $30.
September 4: First Nations, Last Elephants: The Archaic History of Staten Island; an Illustrated Lecture by Tom Lake.
Friday, Sept. 4 at 7:15pmAnthropologist Tom Lake will present a 30 minute illustrated lecture plus walking tour of Ft. Wadsworth Overlook at the Visitor Center.
September 5: When Henry Met the Munsee: Illustrated Lecture; followed by identification of artifacts by Tom Lake.
Saturday, Sept. 5, at 10amAnthropologist Tom Lake will present an illustrated lecture, When Henry Met the Munsee, followed by an "Antiques Road Show" style of identification of artifacts. Bring fossils, stone points, artifacts.
September 5: Natural History of Ft. Wadsworth: Plants, Geology, Wild Edibles, a guided Nature Walk by National Park Ranger and Naturalist, Dave Taft.
Saturday, Sept. 5 at 1pmNPS Naturalist Dave Taft will lead a guided Nature Walk at Visitor Center, Fort Wadsworth. Wear appropriate clothing and take precautions for sun, mosquitoes and ticks; carry water.
September 5: Kayak Staten Island: The Hudson from Henry's Vantage Point; A Kayaking Adventure.
Saturday, Sept. 5 at 3-5:30pm Sandy Beach, Fort Wadsworth. Join Staten Island Kayak for an introductory kayak experience. View the island from the water as Henry Hudson saw it. Kayaks, life vests, instructions and supervision will be provided to a limited number of participants. Meet at Sandy Beach. Dress appropriately; wear beach/water shoes, take precautions for sun, mosquitoes and ticks; carry water.
Sandy Hook Unit Programs
Sept 5: Beach Plum Bonanza! Plumming on Sandy Hook
Sandy Hook Visitor Center at 10:00 AM
Collecting beach plums was an annual Lenape activity every fall. Car caravan to plumming hotspots with a ranger, and discover why these delicious fruits are unique to the shore.
Sept 5: We'll be Jamming, How About You? Beach Plum Jam Making at History House
12:30 PM
Join park volunteer Constance Witherby in making beach plum jam using a traditional Sandy Hook recipe. This free program is limited to twelve people. Call Visitor Center to make reservations 732-872-5970.