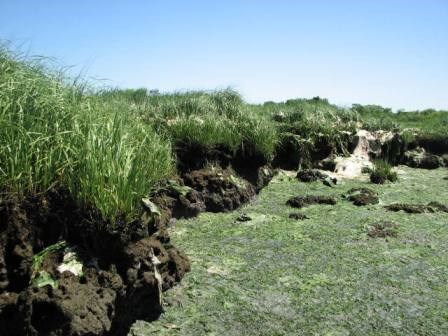 Jamaica Bay Programs
The Scoop on Jamaica Bay Salt Marshes Jamaica Bay Wildlife Refuge
Saturday, August 29 1 p.m. – 2:30 p.m.
Beat the heat as National Park Service ecologist Patricia Rafferty gives you the scoop on Jamaica Bay's salt marshes. This is an indoor discussion. Reservations required.
Canarsie Concert Series - Last Concert of the Summer! Join Us for Open Mic Night!
Canarsie Pier
Thursday Night August 27: 7 p.m. – 9 p.m.
Listen to the live sounds of jazz, R & B, pop, and old school music. And make sounds of your own on Open Mic Nights: Next Open Mic Night is August 27; arrive 30 minutes early to register for open mike.
Afternoon Eco-Cruise
Riis Landing
Sunday, August 30 1 p.m. – 2:30 p.m. $6.00 per person
Come aboard and join the National Park Service for this ranger-guided eco – tour and exploration of the natural wonders of Jamaica Bay. Bring binoculars, insect and sunscreen protection. For more information call (718) 318-4340.
Sandy Hook Programs
Battery Gunnison Preserved
Saturday August 29, noon to 5 p.m.
The Army Ground Forces Association is a volunteer group who are restoring and interpreting Battery Gunnison and its 6-inch guns. Members will be in 1943 period Army uniforms. Stop by on this work day to chat. Beach parking fee applies at the Gunnison lot until 4 p.m.
Staten Island Programs
Founders' Day Campfire
Great Kills Park Beach Center
Tuesday, August 25 at 7 p.m.
Sing-along on the beach listening to the ocean and a crackling campfire as we commemorate the founding of the National Park Service. Parking is available at Lot G. Bring something to sit on.
Letters
Mont Sec House
Fort Wadsworth Saturday, August 29 at 1 p.m.
Learn about the lost art of letter writing and try your hand at calligraphy using pen and ink. Materials supplied. Reservations required.
Vessel Safety Check
Great Kills Park Boat Launch Area
Saturdays, June through August, 8 a.m. - 3 p.m.
This is a free service and is offered by the U.S. Coast Guard Auxiliary. Call for information: (718) 734-7578.