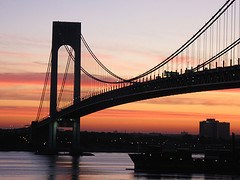 Jamaica Bay Programs: Bikes, Jets and Beaches!
Bike Jamaica Bay
Plumb Beach Round House
Saturday June 27
11 a.m. – 2 p.m.
Join a park ranger on this relaxing bike tour of Jamaica Bay. Explore sights and their history along the trek from Plumb Beach to Floyd Bennett Field. Wear comfortable clothing and bring drinking water.
Jet Rally
Floyd Bennett Field
Radio Controlled Flying Field
Saturday, June 27 and
Sunday, June 28
10 a.m. – 5 p.m.
The Pennsylvania Ave Radio Control Society will show off their expert flying skills in this unique model jet aircraft air show.
North Channel Beach Cleanup
North ChannelBridge – East Lot
Sunday, June 28
10 a.m. – noon
Sometimes a beach just needs a little care. Help us clean the shoreline of Jamaica Bay. Gloves and bags provided. Bring drinking water, sun and insect protection. Reservations required. Call (718) 318 – 4340.
Sandy Hook Programs: Seashores, Salt Marshes and Some History!
At the Seashore
Tuesday June 23 at 7 p.m.
Monmouth Beach Cultural Center
Route 36, Monmouth Beach
This slide program looks at the ferries and railroads visitors rode to the Jersey Shore in the years before WW II.
Salt Marsh Walk
Thursday, June 25 at 7 p.m.
Explore a wetland salt marsh along Sandy Hook Bay.
Battery Gunnison in World War II
Friday June 12, 19, & 26 from 1 to 5 p.m.
Battery Gunnison
Meet an historian in World War II uniform who will guide you through the battery to show you how it operated and defended New York Harbor during the war. Beach parking fee applies at the Gunnison Lot.
Battery Gunnison Preserved
Saturday June 27, noon to 5 p.m.
The Army Ground Forces Association is a volunteer group who are restoring and interpreting Battery Gunnison and its 6-inch guns. Members will be in1943 period Army uniforms. Stop by on this work day to chat. Beach parking fee applies at the Gunnison parking lot until 4 p.m.
Junior Ranger Naturalist
Sandy Hook Visitor Center
Thursdays from 9 a.m. -- noon
June 25
Kids ages 7-12 Become a citizen scientist and help National Park Service researchers unlock the mysteries of Sandy Hook's Asian Shore Crabs. Help find out if they are harmful invaders or helpful immigrants. The program is free, but reservations are required: 732-872-5970.
Also at Sandy Hook:
Sandy HookVisitor Center
Daily, 10 a.m. to 5 p.m.
The Visitor Center is in the historic Spermaceti Cove Life-Saving Station and features exhibits and a bookstore. Call 732-872-5970.
History House
Weekends 1 p.m. to 5 p.m.
Daily, beginning June 21, 1 p.m. to 5 p.m.
An 1898 lieutenant's quarters on "Officers Row" overlooking Sandy Hook Bay is furnished to the 1940s, the busiest time at Fort Hancock.
Sandy Hook Lighthouse Tours
Weekends, noon to 4:30 p.m.
Weekdays, 1 p.m. to 4:30 p.m.
Tours are first-come, first-served. You must be 48 inches tall to climb
the tower. Grounds and video in adjacent barn are always open.
Groups must make advance reservations. Call the Visitor Center.
Sandy HookLighthouse Keepers Quarters
Weekends, noon to 5 p.m.
Weekdays, 1 p.m. to 5 p.m.
Sign up here for Lighthouse tours and see exhibits on New Jersey Lighthouses.
Sandy Hook Bird Observatory
Tuesdays through Fridays, 10 a.m. to 5 p.m.
Saturdays, 10 a.m. to 5 p.m. (in June); 10 a.m. to 3 p.m. (in July & August)
Sundays, 10 a.m. to 3 p.m. (in June); closed in July & August
Building 20, Fort Hancock's Officers Row
This New Jersey Audubon Society field center has a bookshop and displays.
Call 732-872-2500.
Fort Hancock Museum
Weekends June 20-August 22, 1 p.m. to 5 p.m.
The museum is in the former post guardhouse: Dioramas of Sandy Hook and its gun batteries, photographs and artifacts from Fort Hancock's past ….and those old army jail cells.
Battery Potter
Weekends June 20 – August 22 1 p.m. to 4:30 p.m.
Explore Sandy Hook's oldest gun battery, completed in 1894. Meet at Battery Potter.
Nike Missile Radar Site
Saturdays, June 20, July 11, August 8, 3 p.m. to 8 p.m.
Sundays, June 28, July 19, August 16, 3 p.m. to 8 p.m.
Parking Lot L
Tour the site where radar once guided missiles that protected New York City.
Staten Island Programs: Soldiers and Stars
Astronomy Night
Bulkhead Road
(Opposite the Education Field Station)
Saturday, June 27 at 8 p.m.
Join the Amateur Astronomers Association for a tour of the evening sky. Telescopes will be available or you can bring your own. Inclement weather will cancel the program.
Mont Sec House In Words
Fort Wadsworth
Saturday, June 27 at 1 p.m.
Experience Mont Sec House through the letters of an officer's wife. Tour the house and learn how a family lived and played in the fort and New York City in the 1880's. Reservations required.
Battery Weed Open House
Fort Wadsworth
Sunday, June 28 from 1 p.m. – 4 p.m.
Explore the lower casemates and cannon of Battery Weed with a National Park Service ranger. Learn about the history of Battery Weed and its importance to the security of New York Harbor. Children can play Civil War games on the parade ground.