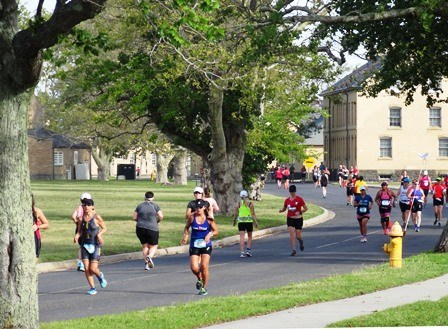 Do I need a permit for that?
In order to keep visitors safe and to conserve the scenery, natural resources, historic resources and wildlife within the park, special use permits are required for certain activities.
Permits are issued by each of Gateway's three units. Permit fees are non-refundable and are based on annual cost recovery. These fees include the cost of permit processing and administration.
One permit that is handled uniformly at all parts of Gateway is for scientific research. Please go to https://irma.nps.gov/rprs/ to access the National Park Service Research Permit and Reporting System.
Do I need a permit for a First Amendment Activity?
First Amendment activities include freedom of speech, press, religion, and assembly. All of these are constitutional rights. However, the courts have recognized that activities and rights may be reasonably regulated to protect park resources.
A small group, defined as "25 people or less," is NOT required to obtain a First Amendment permit if it is located within a park designated site and have no more than leaflets, booklets and/or hand held signs. A permit is required for any small group that:
wants to hold a demonstration or distribute and/or sell printed matter somewhere outside a designated First Amendment area;

wants to use equipment (i.e. tables, banners, platforms, etc) even if it is within the designated area;

is merely an extension of another group already availing itself of the 25 person maximum;

wants to guarantee they will have priority for the use of a location, including the designated First Amendment areas.
A large group, defined as "more than 25 people," IS required to obtain a First Amendment Permit even if it is utilizing a park designated First Amendment site.
For all First Amendment events send in the special use permit that corresponds to the location you wish to utilize. There are no fees associated with First Amendment permits.
Jamaica Bay Unit Permits and Reservations
Jamaica Bay issues permits for activities listed below. Additional permits from other agencies may be required for some actions. Permits are required for group campgrounds, community garden plots, archery, fishing area parking and picnicking. Call 718-338-3799 for further information.
Filming and Photography
Special Uses
Sports Fields
Fishing parking permits are park wide permits and can be obtained in any unit of Gateway.
Breezy Point Tip Off Road Permits, necessary to access the sand road, sand lot and Breezy Point Tip, are available in limited numbers. A 4-wheel drive vehicle is required. All-wheel drive vehicles are not recommended. The Off Road Permit is valid anywhere in the park where the fishing parking permit is honored.
The operator must present the following equipment at the time of purchase and carry each item at all times when driving off road at the Breezy Point Tip: 7 foot (minimum) fishing pole, reel and tackle, shovel, tow chain or rope, jack, jack support board, tire pressure gauge, appropriate spare tire, trash container and portable toilet. Call 718-338-3799 for season and permit distribution information.
Camping: Camp Gateway is open all year round. Tent sites are $30 per night, $210 per week; RV Sites (Floyd Bennett Field only) are $30 per night, $210 per week. Campers will also need to purchase a parking pass if using the beach parking lots during the fee season (Memorial Day through Labor Day).