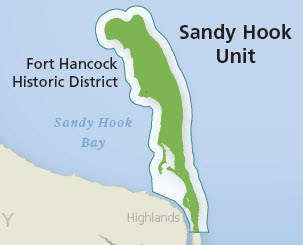 A destination for two million visitors a year
Gateway's Sandy Hook Unit covers most of the Sandy Hook peninsula off the coast of central New Jersey. There you will find miles of amazing beaches, overnight camping, the oldest continuously operating lighthouse in the county, the Fort Hancock and Sandy Hook Proving Ground National Historic Landmark and a former life-saving station. It's a great place to stroll, swim, fish, bird watch, ride your bike, discover your history or work on your tan. (The northern tip of the peninsula is an active Coast Guard facility and is off-limits to visitors.)
Maps of the Sandy Hook Unit
The peninsula includes a popular Multi-Use Path (MUP), ideal for people taking a walk, using roller blades or riding a bicycle. Bikes can also use the road but must obey traffic laws. Those who use the ferry to arrive at Sandy Hook in the summer should take a bus map to see what beaches they can access.
Sandy Hook Base Map
Sandy Hook Multi-Use Path (MUP) map--for walkers, bikers and anything in between
Sandy Hook Trail Map--walking trails to discover nature
Sandy Hook shuttle bus map--summers only (weekends and weekdays use different routes)
Directions to Camp Gateway-Sandy Hook--how to get to the camping sites
Fort Hancock and Sandy Hook Proving Ground National Historic Landmark
This district covers the entire peninsula, preserving the military history of Sandy Hook. It is a great place to walk around or ride your bike. Fort Hancock Historic Post includes most of the distinctive yellow brick buildings where the Army ran operations and where officers and enlisted men and women lived.
Fort Hancock Historic Post Base Map
Fort Hancock Historic Post "tear-off" map--good for hiking or using the MUP
Fort Hancock Historic Walking Tour--brochure, including map