Horseshoe Crab's Crown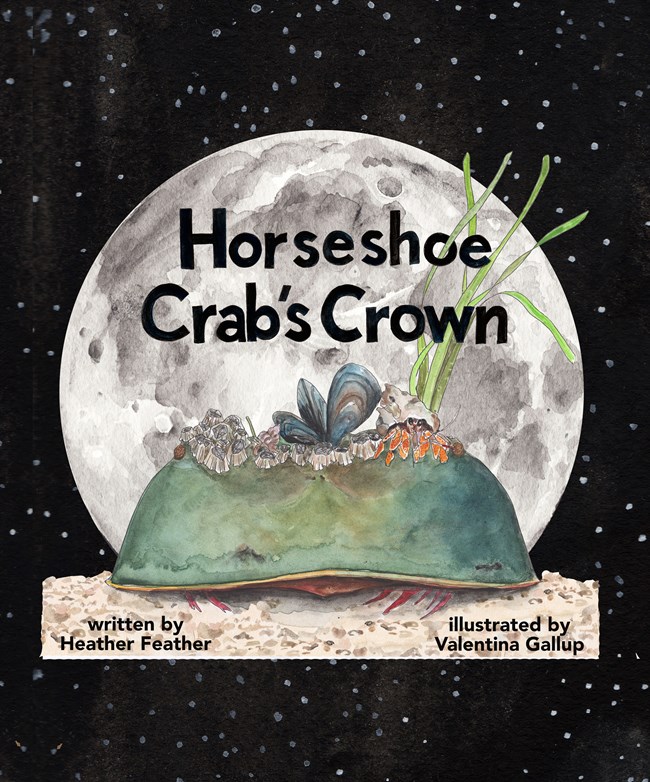 Horseshoe Crab's Crown - by Heather Feather with illustrations by Valentina Gallup.
How a lifetime fascination became a children's book.

This exhibit, telling the story of the creation of "Horseshoe Crab's Crown", has been adapted from a show produced last year in conjunction with the 2019 Horseshoe Crab Festival and to celebrate the publication of of the book. The opening included a reading by Heather and Valentina. This online exhibit includes images from the opening. -- C. Markis, Curator.

Artists Biograhies

Heather Kramer, who writes under Heather Feather, is a Rockaway and Florida-based environmental artist and educator. She has been using the outdoors as a classroom and place of inspiration for over 10 years, believing there is a firm connection between science and art. Finding relevance in the patterns and cycles that nature presents, she emphasizes these foundations through hands-on, art-based learning opportunities both for herself and students of all ages. She works to create educational pieces that connect the local community of the Jamaica Bay ecosystem. In an urban environment where nature can seem scarce, her interactive pieces help to remind young and old alike that the natural world in all around us and has much to offer. Heather writes under the name of Heather Feather, because, she says, that's what the kids call her.
Valentina Gallup is a Rockaway-based artist and painter who helps others find the magic in reality by creating new ways to see the everyday object. Her representational paintings often leave people traveling between the fantastic and the tangible. She is inspired by everything and consequently inspires those around her. She used all of these skills in the creation of this book.

Artist's Thesis:
There is power in the wonder you experience upon seeing your first horseshoe crab. It is built into the DNA of this prehistoric creature, which has survived many mass extinctions, only to become essential to humans and their health. Their blood is many million times more resistant to the microorganisms that might harm us and has been used by scientists for important research.

It is because of the lasting effect horseshoe crabs have that they have become a major focus of the lessons I designed to unite children with their local ecosystems. It was through my own connection to these creatures, and the undeniable connection to the children's experience, that Horseshoe Crab's Crown began to take shape. But most importantly it is because of the children's insatiable curiosity that I found inspiration to tell a larger story -- one that children naturally know.

Since my very first encounter with a horseshoe crab, I have been amazed by the animals that grew atop its shell, resembling a fancy hat or crown. It reminded me of creation mythologies about the turtles and elephants carrying the world on their backs, and I was certain that there must be a similar story about the horseshoe crab.

Further research led me to the local Lenape tribe's world turtle myth about the creation of the planet. Finding nothing on the horseshoe crab, I began to write my own. Instead of a creation myth, I focused on "re" creation. Highlighting the crab's perseverance of overcoming numerous near extinctions, but more importantly emphasizing that with the help of friends, little by little, the earth can be made livable again.

The completed story came slowly, and only after the generous supports from the Queens Arts Council through their New Works Grant having requirement to share work with the community and provided funds to engage Valentina Gallup, making it possible to bring Horseshoe Crab's Crown to a whole new level utilizing her amazing talent as an artist.

Painting the pages of this book took layer upon layer of love -- and watercolor. Despite obstacles of everyday life, Valentina was able to masterfully paint the pages of Horseshoe Crab's Crown while balancing work, travel, and being a wonderful mother.

By researching the animals throughout this story and placing them on the page, she was able to take them from the ethereal into the tangible. She familiarized herself with the contours and shadows of the horseshoe crab and was able to portray a personality in this strange creature, giving Horseshoe Crab depth, movement and soul. It was important to us that we gave enough imagery so that the reader's questions could be answered, but sill leave room for imagination.

It is with these illustrations and all the effort that went into them, that the story of Horseshoe Crab's Crown became whole.

Enjoy! And visit us at horseshoecrabscrown.com for more information. -- Heather Feather



Last updated: May 21, 2020