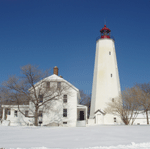 Since 1764 the Sandy Hook Lighthouse, America's oldest operating lighthouse, has guided ships along the Jersey Shore into the New York/New Jersey Harbor. "Some people don't realize that the Sandy Hook Lighthouse was the only way for ships to find the entrance to the harbor and ultimately to New York City in the early 1900s," said Sandy Hook Unit Superintendent Dave Avrin. "Today, visitors to Sandy Hook can drive to the Sandy Hook Lighthouse and enjoy not only sweeping views of the harbor, but during October we have a wonderful photography exhibit as well."
The Sandy Hook Lighthouse Keeper's Quarters Art Exhibit runs daily throughout October from 1 p.m. to 5 p.m. This month the photography of Melissa Wuerthner will be showcased. Wuerthner has been a location photographer for over 10 years. During that time her mission has been to capture unique and sometimes rare moments in the world around us.
Lighthouse enthusiasts should also note that October is the month of the New Jersey Lighthouse Challenge Weekend. The Sandy Hook Lighthouse is one of 11 New Jersey lighthouses along the Atlantic coast and Delaware Bay open for tours this weekend as part of an annual event sponsored by the New Jersey Lighthouse Society. For more information visit the web: www.njlhs.org/challenge/challenge.html.
The Sandy HookLighthouse & Keepers Quarters is open every day in October from 1 p.m. to 5 p.m. (noon to 5 p.m. on weekends). Lighthouse tours take place throughout the afternoon. You must be 48 inches tall to climb the tower. In addition to the special art exhibit, the Keepers Quarters has permanent exhibits on the New Jersey lighthouse system. The adjacent Lighthouse Keepers Barn is also open with a video on the history of the Sandy Hook Lighthouse
The art exhibit is sponsored by the Sandy Hook Foundation.The Sandy Hook Foundation an official friends group of the Gateway National Recreation Area.
Established in 1989, the Foundation's goal is to nurture and protect all of Sandy Hook including Fort Hancock, a National Historic Landmark site, by supporting programs and projects of environmental, historic, and cultural importance. The Sandy Hook Foundation is a not-for-profit charitable organization that relies on the generosity of individuals, foundations, and corporations, as well as dedicated volunteers, to reach its goals.