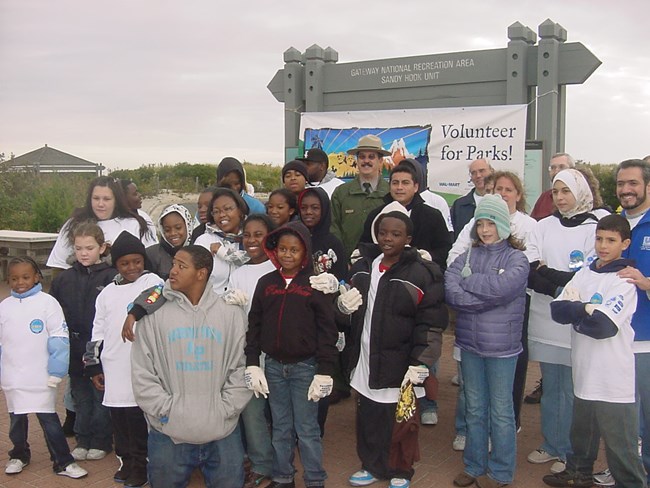 With a stiff breeze blowing, overcast skies, and rain looming in the forecast, the mission of planting beach grasses in the dunes at Gateway National Recreation Area's (NRA) Sandy Hook Unit might have seemed....impossible. "What might have seemed impossible, became possible thanks to the help of a few dozen volunteers as part of the National Parks America Tour," said General Gateway NRA Superintendent Barry Sullivan. "Today's volunteers made improvements to Sandy Hook's beaches that will help to preserve this valued place for our kids and theirs."
A few dozen volunteers from the Boys and Girls Club of Asbury and the public assisted rangers in planting beach grasses along Sandy Hook's shoreline. The plants help stabilize the dunes and keep sand from blowing into the ocean. Though sand dunes may look simply likes piles of sand strewn with weeds, they are, in fact, much more. Beach dunes are part of a delicate system to protect marshes, bays and land behind the beach from high water and stormy seas.
On behalf of Unilever and the Toura grant was given to Gateway National Recreation Area in the amount of $3,000. Also, a grant of $500 was given to the Boys and Girls Club of Asbury.
The National Parks America Touris a volunteer-driven initiative designed to provide National Parks with man-power resources to complete important projects and engage communities in the National Park experience. Sponsored by Unilever, the longest-standing corporate partner of the National Park Foundation and a Proud Partner of America's National Parks, and in cooperation with the National Park Foundation, Wal-Mart Stores, Inc. and Take Pride In America, the National Parks America Tour projects to donate more than 285,000 volunteer man-power hours to the National Park Service resulting in an in-kind donation of $4.75 million.
Sandy Hook is known as a key spot for bird watching, as hundreds of birds migrate to the region during the spring and fall. Gateway National Recreation Area is one of the nation's first urban national parks along the Jersey coastline. Over 26,000 acres long, The Gateway NRA actually extends through Staten Island and Jamaica Bay, New York and then into New Jersey. It offers year round nature activities from hiking, fishing, windsurfing and birding and is a gorgeous outdoor haven.
By 2016, Unilever's Proud Partner commitment to preserve and protect America's National Parks is projected to exceed $100 million in donations and support to the National Park Foundation. Contact: Lou Venuto, Chief, Interpretation & Cultural Resources Sandy Hook Unit, Gateway NRA lou_venuto@nps.gov,