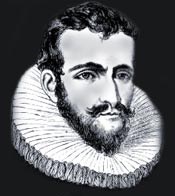 Staten Island OutLOUD presents "Henry Hudson and the Half Moon" on Sunday September 20, 3pm at Fort Wadsworth, Bay Street & School Road (near the Verrazano Bridge)
September 2009 marks the 400th anniversary of Henry Hudson's voyage into New York Harbor, and up the river that now bears his name. Join us to read from the journal of one of Henry Hudson's crew, recounting their historic voyage 400 years ago. We'll also explore the history of his final, and fatal voyage, plus some other intriguing historical materials. BRING A LAWNCHAIR!

Staten Island OutLOUD's events are made possible in part by a 2009 Creative Communities Award from the Council on the Arts & Humanities for Staten Island, with public funding by the New York State Council on the Arts.