Go Green at Gateway: New Visitor Shuttle at Sandy Hook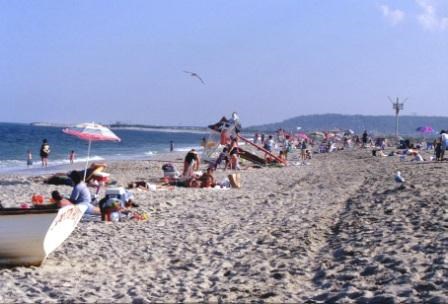 How Can You "Go Green" and Avoid Traffic Jams? Why, with Ferries and French Fries, of Course!
In order to be "green" and environmentally responsible, there's also two other ways to get to and around the Hook this summer. First, visitors can ride the weekend ferry service from New York City directly to Sandy Hook: Seastreak Ferry (1-800-BOATRIDE).
Once they arrive, they can use the new shuttle service to get around the Hook.A jitney bus will transport visitors from the ferry dock to locations within the park. But, here's the kicker, it will be powered by French fry oil.
You read that sentence correctly.
The Sandy Hook Foundation has invested in the purchase and installation of a biodiesel conversion system. Used cooking oil from local eateries including the Sea Gull's Nest on Sandy Hook will be strained to remove sediments and processed into biodiesel fuel that can be pumped directly into diesel engine vehicles.
The Foundation is partnering with the National Park Service, Sea Bright Solar and the Shamrock Stage Coach bus company to demonstrate the use of "greener" fuels to Sandy Hook visitors.
This is another effort by the Sandy Hook Foundation to help the park go green. This spring the Foundation funded the installation of solar panels at the North Beach pavilion. The panels and an energy conversion gauge will demonstrate to visitors the effectiveness of alternative energy sources. The North Beach site is also the intended future home of a green beachside classroom.
Construction Alert:
"Due to the bridge construction work at the entrance to the park, visitors may experience long delays leaving the park after 1 P.M.," said Sandy Hook Acting Superintendent Dave Avrin. "Summer weekends are particularly busy," he added. Park staff encourages visitors avoid delays and arrive before 10 a.m.
So, skip taking your car to the "Hook," grab a ferry ride instead and then catch the "French fry" bus to your favorite spot at Sandy Hook. You can be green, clean and avoid all those traffic jams.
The Sandy Hook Foundation is the official friends group of the National Park Service (NPS) at the Sandy Hook Unit, Gateway National Recreation Area. Established in 1989, the Foundation's goal is to nurture and protect all of Sandy Hook including Fort Hancock, a National Historic Landmark site, by supporting programs and projects of environmental, historic, and cultural importance. The Sandy Hook Foundation is a not-for-profit charitable organization that relies on the generosity of individuals, foundations, and corporations, as well as dedicated volunteers, to reach its goals.
Last updated: February 26, 2015