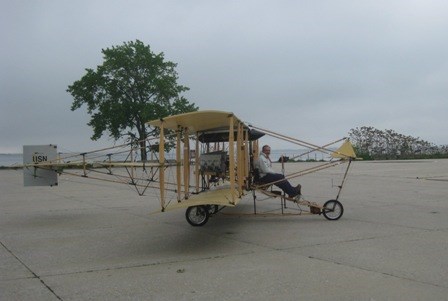 The Ely-Curtiss Pusher Has Landed!
A replica of the 1911 Ely-Curtiss Pusher landed at Gateway National Recreation Area's Floyd Bennett Field, a former municipal airport and naval air station, on Friday, May 20. Photos and video of the arrival can be found here.
The historic replica aircraft will appear at Hangar B through Friday, May 27 during New York City Fleet Week to honor the Centennial of Naval Aviation. Hangar B is open to the public Tuesday, Thursday and Saturday. The aircraft will occasionally fly in New York City airspace, weather depending.
The replica is the result of three years' work by retired Navy and commercial pilot Bob Coolbaugh and his "Curtiss Crew" of early aviation enthusiasts. Coolbaugh spent over two years constructing the Ely-Curtiss Pusher. A bamboo frame supports fabric-covered wings and a tricycle undercarriage. The entire craft weighs about 1,000 pounds.
On January 18, 1911, aviation pioneer Eugene B. Ely landed his aircraft on the deck of the armored cruiser USS Pennsylvania. Later that day he took off from the same ship. This event helped convince the United States Navy to purchase its first aircraft and began the development of a naval aviation program.
The event happens to coincide with the Kings County Fair, held at Aviator Sports Center, a concession within Floyd Bennett Field. Visitors may attend both events.
For more information, call the Floyd Bennett Field Visitor Center at 718-338-3977.
For more information, read our press release.