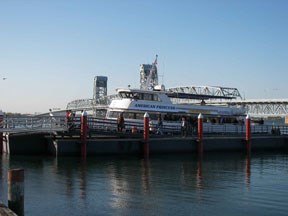 Rise Landing Ferry Services
Perhaps the best way to experience all that Gateway National Recreation Area and Jamaica Bay have to offer you is from a boat. Most of the park's area is made up of, or surrounded by the waters of Jamaica Bay and Lower New York Bay. The natural and historic treasures that the park protects and the recreational opportunities that the park provides are all very close to the bays and ocean. Whether you are using the ferry to commute, or are enjoying a cruise and tour of the bay with your family and friends, enjoy your surroundings and experience your park!
The ferry service brochure offers information about schedules, sunset, night and ecocruises.