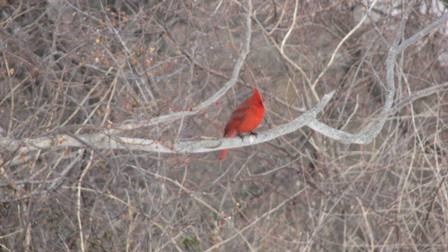 I was given the task of leading Project FeederWatch for the Refuge. This will be a record of what birds come to this site. Ranger Colleen and I will count birds at our feeder every Sunday and Monday for about two months. We record the weather each day of our count also. I will submit our data to the Cornell Lab of Ornithology so they can add it to other records and let other people know what we have going on here. It will also help scientists understand what species and how many birds are being seen, so they can compare this year with other years' records.
The birds eat black oil sunflower seed out of our feeder. If you want to have a bird feeder, make sure you fill it with good quality bird seed. Hang the feeder in a place where you can reach it the next time you have to fill it. You have to clean the feeder regularly. I clean the feeder at the refuge once a week. Anyone can participate in Project Feeder Watch – so if you would like to, just do a web search to find their site.
The cardinal visited the feeder many times today. There were three cardinals, two males and one female. The male is really red in color with a red bill and the female has red/brown plumage, also with a red bill. You can spot them really easily in the snow.
There were also four goldfinches at the feeder. They are tiny birds with a yellowish back and wings with white and black stripes. I also saw two black-capped chickadees. The black-capped chickadee has a white face with a black cap. It is very fast and a hard bird to get a picture of. All the pictures on this blog were taken by me.