Poison Ivy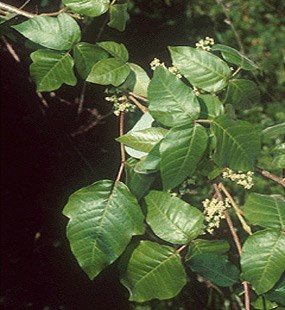 "Leaves of Three, Let Them Be"
Even though poison ivy makes most of us itchy, the plant serves a vital function at Gateway. Its tough woody roots hold sand dunes in place. Sandy Hook Unit has a lot of poison ivy, but it grows commonly in Gateway's two other units as well, as it does throughout the New York metropolitan area.
If you only look for poison ivy at ground level, you might miss a branch brushing your cheek. The plant not only wraps itself around other plants but it can grow on its own to the height of six feet. It grows best where its roots are shaded but it can be found in sunny areas as well.
Urushiol, the oil which make its leaves shiny--and which make half of the U.S. population break out in hives--is present in every part of the plant, including the stem and roots. People can get poison ivy even in winter by digging where the plant grows.
Since poison ivy is one of the most commonly found plants at Gateway, visitors should learn how to identify it. The color may change from dark, glossy green to speckled with red and yellow, depending upon the season. But its leaves always grow in groups of three. Remember the old saying: "Leaves of three, let it be!"
Last updated: February 26, 2015