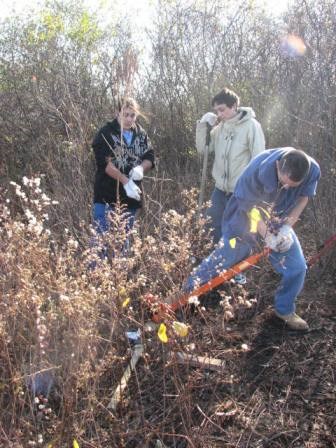 This is the last entry of my blog. It was fun to observe the birds of Jamaica Bay and write about them - their diets, breeding, and migration. But I am leaving the Jamaica Bay Wildlife Refuge to work at Ellis Island, another National Park. I will enhance my knowledge there and study the history of Ellis Island. I am going to miss working at the refuge. I had a wonderful experience.
My brother was so interested in what I do, that he wants to volunteer now. I think if more young people start volunteering we could have a big effect on helping the environment here. For example, there are many invasive plants that take over and push out the native plants. The photo here shows us removing invasive plants the first year I started at the refuge. Volunteering can help you grow, too. You can learn and do many things you wouldn't otherwise get to do.
Thanks for reading my blog. Check out the Jamaica Bay Wildlife Refuge in person if you get a chance. You'll enjoy being there - and maybe see some birds!
Project Feederwatch Blog: Protecting Wildlife, One Bird at a Time