Solar Power at Gateway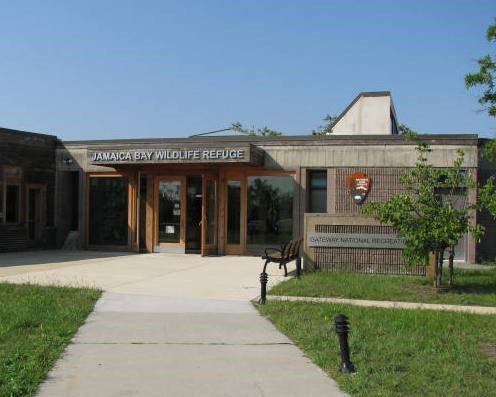 Solar Panels Energize Jamaica Bay Wildlife Refuge
Nature enthusiasts arriving at Jamaica Bay Wildlife Refuge's Visitor Center may notice the bamboo floors, energy-efficient lighting and other features that make this a LEEDS-certified, environmentally sound building. However, they may not notice the solar panels on the roof, which quietly generate energy for use at the center.
Since the visitor center opened in 2006[???], its [how many?] solar panels have generated 26,494.9 kiloWatt hours. That is enough energy to power 713 homes for one day, or 204 computers for one year. By generating power through solar panels, the environmental benefits include greenhouse gasses NOT being created: 44,484.9 pounds of carbon dioxide, over 41 pounds of nitrous oxide and 122.7 pounds of SO2, whatever that is. That is the pollution an average car emits over four and a half years.
You can check on how much energy is being produced by these few panels at this website.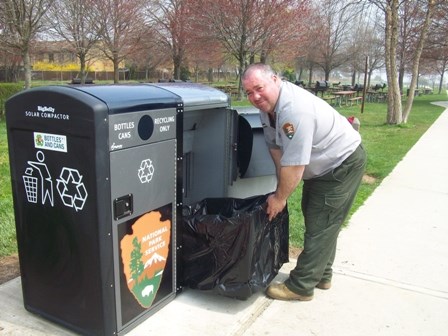 Green Garbage Collection Uses Solar Power
In the spring of 2011, Gateway installed six BigBelly® Solar Compactor trash and recycle bins at Frank Charles Park and Jacob Riis Park (both in Jamaica Bay Unit) and Miller Field (Staten Island Unit).
These sophisticated trash bins use solar power to compact trash, reducing the need for frequent collections by four times or more. Compacting garbage reduces unsightly and smelly overflow from regular garbage cans. A recycling bin to the left encourages users to separate plastic bottles, paper and cans from refuse.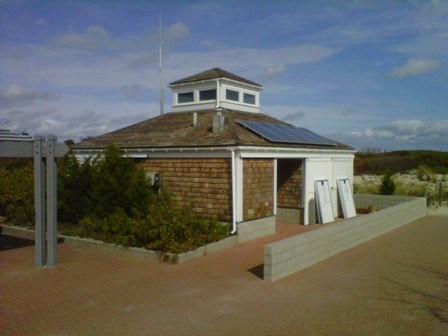 Solar Power at Sandy Hook Unit
Solar panels have been mounted on eight different structures at Sandy Hook Unit, including Beach Centers B, C, D, E and G. When they generate more energy than the building uses, excess energy will feed back into the grid. The National Park Service will be credited with any energy created by the panels, saving taxpayers money and creating a greener world.
Last updated: February 26, 2015