Fort Tilden Shore Road- Shoreline Resiliency Project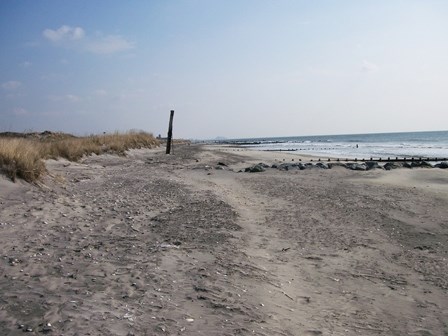 The National Park Service (NPS), in cooperation with the Federal Highway Administration - Eastern Federal Lands Highway Division (EFLHD) is preparing an Environmental Assessment (EA) to evaluate a range of alternatives to address access, safety and shoreline resiliency at Fort Tilden, Gateway National Recreation Area due to changes brought about by Hurricane Sandy in 2012.
Hurricane Sandy caused physical changes in the Fort Tilden shoreline and beach area, creating a new environment with safety, access, and resource questions that need to be addressed.
The purpose of this project is to understand the potential impacts from future storm events on natural and cultural resources, infrastructure and the safety of surrounding communities, and use this to guide the siting and design of Shore Road, address safety in response to the exposed bulkhead, as well as inform the consideration of future coastal protection measures.
The NPS is in the beginning of the planning process and invites the public to attend an Open House to learn more about the project, ask questions, and provide comments.
Open House:
Wednesday, February 25th, 2015
6:00 p.m. - 8:00 p.m.
Gateway National Recreation Area
Ryan Visitor Center
Floyd Bennett Field
50 Aviation Road
Brooklyn, NY
The EA will be prepared in accordance with the National Environmental Policy Act of 1969 (NEPA) and other laws, regulations, and policies. In compliance with NEPA and NPS Director's Order #12, Conservation Planning, Environmental Impact Analysis and Decision Making, the NPS will develop a range of alternatives. The input provided during public and and agency scoping will be used to help develop a range of alternatives. The input provided during public and agency scoping will be used to help develop the alternatives and address potential project impacts. The EA will document the evaluation of the alternatives as well as public involvement activities performed for the project.
The NPS has announced a 30-day public scoping period through March 20, 2015. During the scoping period, the public is invited to share their ideas and identify any issues or concerns they may have regarding the proposed project.
Comments may be submitted online at https://parkplanning.nps.gov/gate or mailed to the following address:
Office of the Superintendent
Gateway National Recreation Area, Fort Wadsworth
210 New York Avenue
Staten Island, New York 10305
Attn: Fort Tilden Shore Road EA
Please provide written comments by March 20, 2015.


Last updated: February 26, 2015