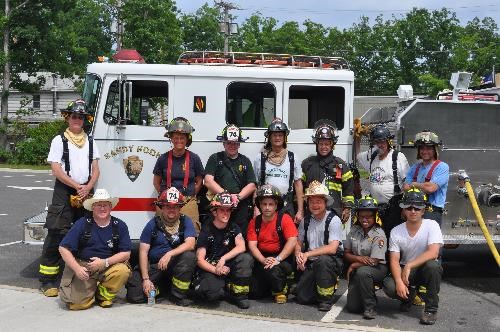 Gateway NRA maintains a full structural engine company at the Sandy Hook Unit in New Jersey. The engine company consists of a full time fire chief and over twenty "collateral duty" park rangers and park employees who respond as traditional paid per call firefighters, when the alarm is sounded.
Fire protection at the park dates back to 1874 when the U.S. Army opened the Proving Ground and placed a steam fire engine into service, manned by soldiers. For the next 100 years the U.S. Army continued to provide fire protection to the post. When GNRA was formed in 1974, the National Park Service inherited two military fire engines, equipment and both a 1905 and 1910 firehouse.
Since then, the Park Service has provided uninterrupted service to the visitors, residents and employees of Sandy Hook. Sandy Hook Fire-Rescue is the only NPS Engine Company that provides primary fire service to a US Military installation, which is the U.S. Coast Guard Station Sandy Hook. It is one of 22 NPS engine companies throughout the country.
Gateway NRA has 601 structures, many of which qualify as historic because they are over fifty years old. These structures tell a significant part of the story of Gateway, whether they are military buildings or aviation hangars. If destroyed, they could never be replaced.