Family Fun at Gateway NRA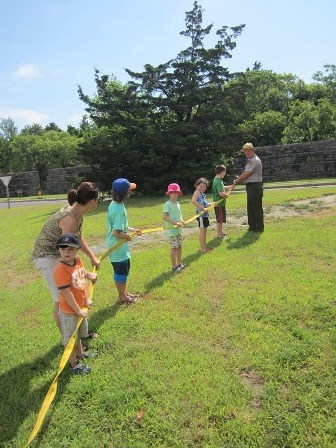 Upcoming Programs:
Made for the Shade
Floyd Bennett Field –Brooklyn
Ryan Visitor Center
Sunday, March 15, 2PM
You can have a beautiful garden regardless of how much sun you receive. Learn about the many annual and perennial varieties that will shine for you where the sun doesn't. 718-338-3799.
Spring Equinox Walk on Sandy Hook
-Guardian Park, Fort Hancock - Sandy Hook
5:00 PM to 7:00 PM
Friday, March 20
Fee Information: FREE
Call the American Littoral Society at 732-291-0055 to make a reservation.♥ 2 miles
Spring Peepers
Jamaica Bay Wildlife Refuge –Queens
Saturday, March 21
6PM-7:30PM
Celebrate the first full day of spring with the spring peeper chorus. Join a ranger to discover these tiny but fascinating tree frogs on a stroll to Big John's Pond. Please wear sturdy shoes and dress for the weather. Bring a flashlight. Distance: ♥2 miles. Bus: Q52, Q53.
Amelia Earhart
Floyd Bennett Field –Brooklyn
Ryan Visitor Center
Thursday, March 26, 2PM
Children, ages 4 to 7, help celebrate Women's History Month by visiting the Ryan Visitor Center Golden Age Discovery Room for a story about pioneering aviator Amelia Earhart.
Star Gazing
Floyd Bennett Field –Brooklyn
Community Garden
Friday, March 27, 8PM-10PM
Come gaze at the wonders of the night sky over Floyd Bennett Field with the Amateur Astronomers Association.Weather permitting;clear or partly clear skies only. Telescopes will be provided.
Let's Move Outside Junior Rangers
Let's Move Outside Jr. Rangers is a fitness initiative dedicated to getting kids and families to take advantage of America's outdoors with active recreation and learning in National Parks. Children ages 7-12 are invited to get a healthy start to a healthy future by participating in any of the guided programs that are offered at all of Gateway's sites, throughout the year. In addition, they can embark on a self-guided Jr. Ranger adventure with their families, by picking up a Jr. Ranger booklet at any visitor contact station. Jr. Rangers who participate in ranger-guided programs or the self-guided program can earn a certificate, Junior Ranger badge or a special patch, while championing the Jr. Ranger motto: "explore, learn and protect."
Look for the programs that the park offers in the quarterly program guides for each unit. Or, follow us on Facebook, or Twitter.
Make your local national park, your "Gateway" to adventure, fitness, and fun!
Last updated: May 1, 2018