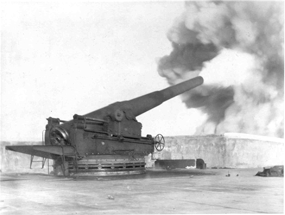 Fort Hancock's Battery Potter, constructed from 1890-1894, was the first disappearing gun battery in the U. S. Originally called Lift-gun Battery #1, it was the first and only disappearing gun battery powered by a steam hydraulic lift system. In operation from 1893-1906, it was obsolete by the time it was built because the fastest firing of the gun took over two minutes.
The Army had developed a new gun carriage that used a counterweight to raise and lower the gun called the Buffington-Crozier carriage. This carriage allowed the guns to fire two rounds per minute.
Battery Potter stayed in operation until 1906 because it had a 360 degree range of fire and was capable of covering Sandy Hook Bay. When Battery Arrowsmith was constructed on the bayside of Sandy Hook at Camp Low, Battery Potter's guns were no longer needed.