Jacob Riis Park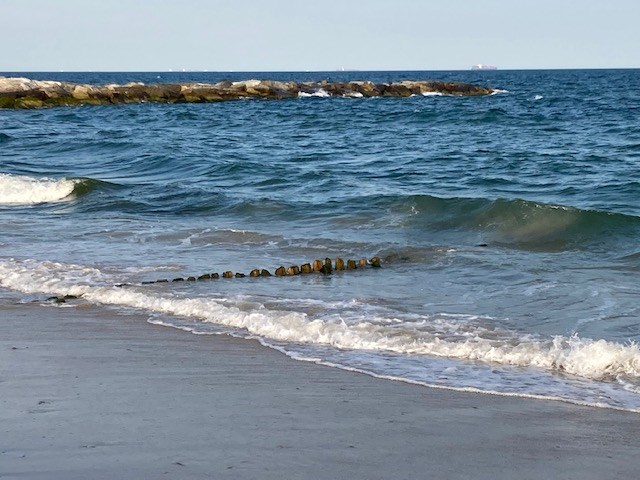 Bay 1 Closure

Gateway National Recreation Area has closed a portion of Bay 1 at Jacob Riis Park to swimming and water access.

Beach erosion has created unsafe conditions at Bay 1, exposing deteriorated wooden groins, rockwork, and other structures. The exposed structures not always visible, especially at high tide, and could be dangerous to swimmers.

Bays 3-5 were completely closed to visitors as of Memorial Day weekend, also due to erosion as and the exposure of hazardous structures.More of the beach itself is left at Bay 1, so an effort is being made to leave portions of the beach in this area open to visitors.

The National Park Service respects the fact that this portion of beach is traditionally used by the LGBTQ+ community and will strive to provide access for all members of the public to the maximum extent possible while taking the steps necessary for visitor safety.

Lifeguards remain on duty from 10 am to 6 pm daily at Bay 1.

It is normal for beaches to narrow throughout the winter due to stronger winter waves and nor'easters that move sand from the beach to offshore bars. Gentler summer waves typically move sand from the offshore bars back onto the beach resulting in wider summer beaches. This year, this cycle has not brought as much sand back to this portion of the shoreline, leaving hazardous structures exposed.

Rising sea levels and the increasing frequency and intensity of coastal storms due to climate change alter the seasonal movement of sand between the beach and offshore bars and contribute to beach erosion.

Additionally, the US Army Corps of Engineers, New York State and New York City are currently constructing a storm risk reduction project east of Jacob Riis Park that may be contributing to the loss of sand in this area. That project will include beach fill at Jacob Riis Park to offset this impact, which is anticipated to alleviate some of the current safety concerns. Sand placement is expected over this fall or winter and will reoccur on a cyclic basis.

The National Park Service will continue to evaluate beach conditions, taking measures as necessary to address safety concerns while striving to maximize public access for a safe and enjoyable visitor experience.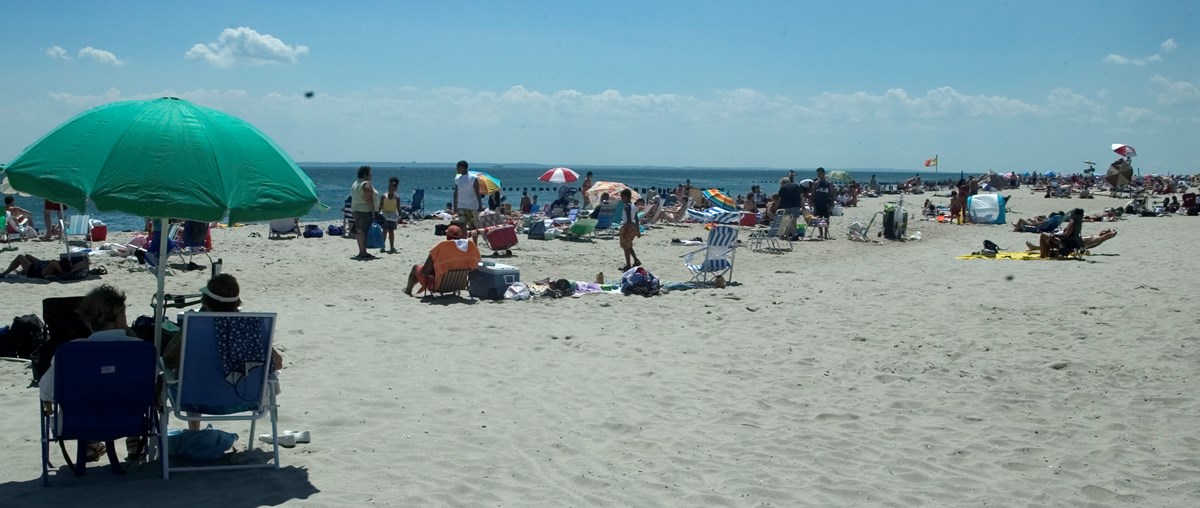 Jacob Riis Park was designed by New York City as a park in 1912. Its famous bathhouse was built in 1932 and remodeled five years later. Jacob Riis Park became part of the National Park Service when Gateway was established in 1972.
Lifeguards are on duty at this swimming beach daily between Memorial Day and Labor Day from 10 am to 6 pm.
There is also a picnic area and playgrounds.
Operating Hours
Jacob Riis Park is open daily from 6 a.m. to 10 p.m.
Facilities
Swimming Beach: Lifeguards are on duty daily from 10 am to 6 pm Memorial Day weekend through Labor Day.
Restrooms
Outdoor Showers: Outdoor showers are operational in the summer months.
Playgrounds
Food Services: Food is available in Bay 9 and the Riis Beach Bathhouse.
Parking Lot: Beach parking fee of $20 is charged daily between Memorial Day weekend through Labor Day. (7 am to 5 pm)
Driving Directions
From the North, East, and West:
Take the Belt Parkway to Exit 11S (Flatbush Avenue)
Follow Flatbush Avenue south to the Marine Parkway Bridge toll plaza.
Cross the bridge, and follow signs to park parking lot.
From the South (and alternate route from other directions):
West on Beach Channel Drive.
Follow signs to the park.
Public Transportation
Take the #2 train (#5 during rush hour) to Flatbush/Nostrand Avenue. Transfer to the Q35 bus. Select either the Fort Tilden or Jacob Riis stop after the bridge. Please note that during off season both the Q22 and Q35 both stop at Beach 149th Street. Between Memorial Day weekend and Labor Day both buses will stop inside Jacob Riis Park.
Alternate: Q21 or Q53 to Beach 116th Street, then Q22 or Q35 to the park.



Last updated: July 19, 2022