Jacob Riis Biography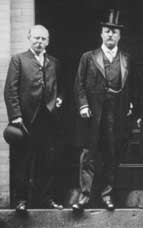 Jacob Riis was born in Ribe, Denmark in 1849, and immigrated to New York in 1870. Unable to find work, he soon found himself living in police lodging houses, and begging for food. The conditions in the lodging houses were so bad, that Riis vowed to get them closed.
After three years of doing odd jobs, Riis landed a job as a police reporter with the New York Evening Sun. He worked in the poorest, most crime – ridden areas of the city. These were generally neighborhoods where immigrants lived in deplorable tenement houses. He began to bring a camera with him to document what he found in these neighborhoods, and the conditions in which these people lived. For this, Riis is considered to be one of the fathers of modern photojournalism. His book How the Other Half Lives inspired then police commissioner Theodore Roosevelt to close the police lodging houses. It also brought about many needed reforms in housing laws. So important was Riis's work, that Roosevelt called him "New York's most useful citizen."
One of the things that Jacob Riis recognized was the need for parks and open spaces. The overcrowded tenement neighborhoods were unhealthy and helped to breed crime. Riis said, "Bad boys and bad girls are not born, but made…They are made bad by environment and training. The children must have room to play."
After Jacob Riis's death in 1914, it was decided to rename Seaside Park in Rockaway, New York in his honor.
Last updated: February 26, 2015