The first manager of Jamaica Bay Wildlife Refuge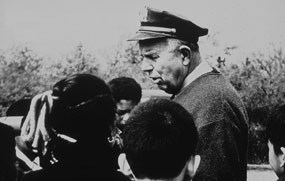 Robert Moses appointed Herbert Johnson as the first manager of Jamaica Bay Wildlife Refuge in 1952. Johnson spearheaded efforts to improve natural habitat at the park, and to make the area easily accessible to the public.
One of Johnson's first tasks was to increase the variety of habitats at the refuge in order to for it to be a sanctuary for the many types animals that make their home in the city, and for those that move through on migration. Johnson worked with the transit authority to close off some saltmarsh areas to the flow of the tides, in order to create two fresh water ponds. Other marshes were filled with sediment and then planted with trees and shrubs to create woodland. These new habitats created new refuge for upland mammals and reptiles, fresh water fish and amphibians and other species not previously found in the park.
Johnson was an avid teacher and public advocate, in spirit and training. He felt strongly that the Wildlife Refuge should be not just be a place for animals and plants but that it be a place of respite for people too. While he was working on habitat enhancements, he enlisted a small crew of volunteers to create a trail system for the public. He also developed environmental education programs for children of all grade levels and offered outdoor programs for city kids, year-round.


Last updated: February 26, 2015