Fort at Sandy Hook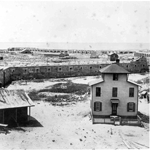 Sandy Hook was chosen as one of the locations in New York Harbor for a 3rd system fortification. In 1859, Army Engineers started building a massive, granite fort at the north end of Sandy Hook. Known as, "The Fort at Sandy Hook", it was originally designed to be a five bastioned pentagon-shaped fort.
By 1863, at mid-point of the Civil War, thirty-four canons were mounted and troops were sent to man these weapons. In 1866, mounted in the fort were twenty-four 10-inch Rodmans, eight 8-inch Rodmans, nine 8-inch Columbiads, and five 100-pound Parrott guns.
The first troops, Company E, 10th New York Heavy Artillery, were assigned to the Fort at Sandy Hook on April 3, 1863. Last Army unit assigned to the fort was Company B, 2nd U.S. Veteran Volunteers, who left in July 1866.
When construction ceased in 1869, seventy percent of the Fort at Sandy Hook was completed. Work stopped because new rifled canons could pulverize brick and granite walled forts, making this type of fortification obsolete. It would take another twenty-one years before construction would begin on the next fortifications, the Endicott system, on Sandy Hook.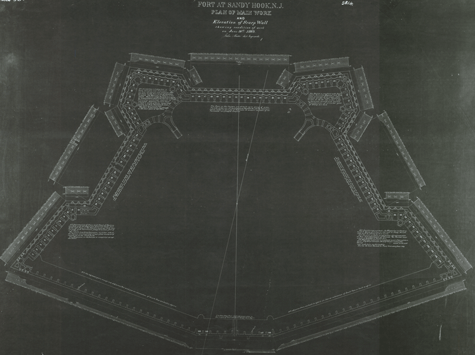 Last updated: February 26, 2015