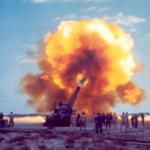 Fort Tilden was established in 1917 as a U.S. Army Coast Artillery Post. Along with Forts Hancock and Wadsworth, it protected the entrance to New York Harbor from naval attack during World War I and World War II. During the Cold War, Fort Tilden became a Nike Missile installation.
For a more detailed history, click here.
Fort Tilden is listed on the National Register of Historic Places.
View the Fort Tilden Historic District Nomination Form.
View the Historic Structures Report, Historic Data Section of Fort Tilden, Gateway NRA.
View the Building 1, Fort Tilden, Historic Structures Report.