Douglas "Wrong Way" Corrigan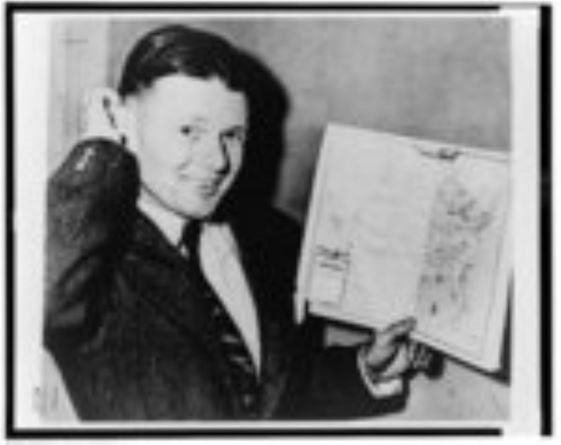 A touch of the absurd came to aviation in July 1938, when a young California pilot (who had worked as a welder on The Spirit of St. Louis), Douglas Corrigan, made one of the most sensational flights of the era.

Having flown his nine year-old, $900 Curtiss Robin to New York, Corrigan fueled up and took off after announcing that he planned to return to Los Angeles. When next heard from, Corrigan and his old plane were in Dublin, Ireland, where he said, "My name's Corrigan. I left New York yesterday morning headed for California, but I got mixed up in the clouds and must have flown the wrong way."

And so was born the wry legend of "Wrong Way" Corrigan. It was a likely story, and Corrigan stuck to it to the delight of everyone. He had violated enough rules and regulations to have grounded him for life, but he had so captivated the public imagination that any legal procedure would have caused a furor. So his flying license was suspended for five days (which Corrigan spent aboard an ocean liner, returning to New York for a hero's welcome). After a brief tour with his obsolescent Robin (which had a Department of Commerce "X," for experimental license-and even that had been granted reluctantly to the old "flying jalopy"), after writing a book and taking a fling at the movies, Douglas Corrigan settled down to growing oranges in California. His flight, of course, added nothing to the progress of aviation except for a little laughter in a world growing grimmer by the day.

Corrigan was the last of the early glory-seeking fliers. He flew a single-engine 1929 Curtis-Robin he'd bought off a trash heap for $310. He'd rebuilt it and modified it for long-distance flight. Like Corrigan, it was a hold-over from earlier days. By now, Lindbergh's flight was eleven years old. Others had also flown the Atlantic, but it was still not a trick you'd try in any regular factory-ready airplane. Corrigan flew non-stop from California to New York in 1938. He'd filed plans for a transatlantic flight and was denied by aviation authorities. The piece of junk he was flying had no business challenging the Atlantic. So he gave up and filed a plan for a non-stop return to California. He took off at dawn. A few puzzled onlookers watched him do a 180-degree turn and vanish into a cloudbank. Twenty-eight hours later, he stepped out of his plane in Dublin, Ireland, saying, "Just got in from New York. Where am I?" The authorities suspended his license while Corrigan stuck to his story: He'd got turned around, and his compass had malfunctioned. He'd meant to fly to California. The only people who were fooled by that wanted to be fooled. After all, he was the perfect anti-hero -- the little guy in his home-made airplane.

When word flashed back to the United States about his remarkable fiight. he immediatelv became known as "Wrong-Way" Corrigan. Nobody believed his tale, and aviation experts were astounded that he had crossed the ocean in such a "crate," but the world cheered his audacity and flying skill. He was a hero who didn't look or act like one, a blithe individualist who had thumbed his nose at the authorities and at the laws of probability and gotten away with it. Not only had he flown the Atlantic without an American permit, but he had lacked permission to land at Dublin. For once, however, government officials had a sense of humor. As Corrigan boarded an ocean liner in Ireland, for the trip home, he was handed a cablegram from the United States Department of Commerce announcing his punishment for breaking the law. His pilot's license was suspended until August 4. That was the day the ship was due in New York. In other words, no punishment at all. Back in the United States, Doug received the celebrity treatment-a ticker-tape parade in New York City, a meeting with President Franklin D. Roosevelt at the White House, and a nationwide tour in the faithful old Robin. Wherever he went, his hosts gave him joke gifts. The Liars Club of Burlington, Wisconsin, elected him a member. Many cities presented him with compasses. At Tulsa, Oklahoma, an Indian tribe initiated him as Chief WrongWay, and Abilene, Texas, gave him a watch that ran backward. Douglas Corrigan was the poor man's hero, shy and modest. Never once in public did he budge from his story.

In later years, Corrigan settled on a twenty-acre citrus ranch in Southern California and enjoyed a comfortable life. He kept the sturdy but shabby plane in a shed at his home, as a reminder of his moment of glory. It was a reminder, too, of an era gone, because Corrigan's adventure was the last of the transatlantic daredevil flights. Aviation had turned into big business.
Last updated: December 7, 2020