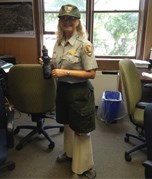 TRT at Jamaica Bay: Nanette Melero
Greetings!
My name is Nanette Melero and I am a 2nd grade bilingual teacher at Tierra Vista School in Oxnard, California. In addition to second grade I also co-teach our Gifted and Talented Education (GATE) class. This year I have been selected as a Teacher-Ranger-Teacher at Jamaica Bay in Gateway National Recreation Area in New York. As aTRT my job includes assisting with programs and curriculum at Ecology Village at Floyd Bennett Field, and learning as much as I can about the national park so I can share my experience with my students back home. While I am here I will be developing lessons to address standards at the grade levels I teach, a program to present school wide during National Parks Week in April, and a new program for the park to use with local student visitors.
Gateway is quite vast and spread out, and is one of New York's best kept secrets. Every time I look out my window from Fort Tilden, or walk the beach at Jacob Riis, or wander the trails at Floyd Bennett Field, and I see the New York City skyline across the bay or ocean, I can't help but reflect on the irony of what I'm admiring. Just across the water lies the largest, most populated city in the US, complete with skyscrapers, paved roads, cars, buses, trains and airplanes, and millions of people engaged in daily, modern day, metropolitan activities. Yet here, at the very tip of New York City, lies hidden history, habitats and wildlife. Abandoned forts, military bases and airfields that have been all but forgotten are the structures and focal points for this urban national park. And, in the midst of the remnants of New York's early industrial years breathes an ecological treasure: the Jamaica Bay Wildlife Refuge and surrounding marshlands.
Here at Gateway history buffs can visit vintage aircraft, be guided through strategically located (and sometimes camouflaged) military strongholds, and learn about aviation history. Visitors who want a taste of the outdoors can explore the many trails at the Wildlife Refuge while looking and listening for signs of resident and migrating birds. Camping is also an option for those who are a little more adventurous. If you like the beach, there seems to be a never ending expanse of sandy shoreline, complete with waves and marine creatures. There is much for me to learn and ponder, and one summer will not be enough for me to experience all that is Gateway!