Teacher-Ranger-Teacher Journal 2012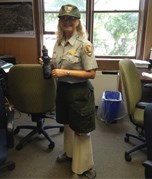 TRT at Jamaica Bay: Nanette Melero
Greetings!
My name is Nanette Melero and I am a 2nd grade bilingual teacher at Tierra Vista School in Oxnard, California. In addition to second grade I also co-teach our Gifted and Talented Education (GATE) class. This year I have been selected as a Teacher-Ranger-Teacher at Jamaica Bay in Gateway National Recreation Area in New York. As aTRT my job includes assisting with programs and curriculum at Ecology Village at Floyd Bennett Field, and learning as much as I can about the national park so I can share my experience with my students back home. While I am here I will be developing lessons to address standards at the grade levels I teach, a program to present school wide during National Parks Week in April, and a new program for the park to use with local student visitors.
Gateway is quite vast and spread out, and is one of New York's best kept secrets. Every time I look out my window from Fort Tilden, or walk the beach at Jacob Riis, or wander the trails at Floyd Bennett Field, and I see the New York City skyline across the bay or ocean, I can't help but reflect on the irony of what I'm admiring. Just across the water lies the largest, most populated city in the US, complete with skyscrapers, paved roads, cars, buses, trains and airplanes, and millions of people engaged in daily, modern day, metropolitan activities. Yet here, at the very tip of New York City, lies hidden history, habitats and wildlife. Abandoned forts, military bases and airfields that have been all but forgotten are the structures and focal points for this urban national park. And, in the midst of the remnants of New York's early industrial years breathes an ecological treasure: the Jamaica Bay Wildlife Refuge and surrounding marshlands.
Here at Gateway history buffs can visit vintage aircraft, be guided through strategically located (and sometimes camouflaged) military strongholds, and learn about aviation history. Visitors who want a taste of the outdoors can explore the many trails at the Wildlife Refuge while looking and listening for signs of resident and migrating birds. Camping is also an option for those who are a little more adventurous. If you like the beach, there seems to be a never ending expanse of sandy shoreline, complete with waves and marine creatures. There is much for me to learn and ponder, and one summer will not be enough for me to experience all that is Gateway!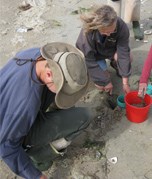 Gateway, a wonderful discover!
My introduction to Gateway has been very exciting. During my first two weeks at Jamaica Bay I've had the opportunity to explore the park, kayak, work with researchers and camp at Ecology Village! One of the many fascinating aspects of Gateway is the urban ecology. As I'd mentioned before, there is diverse habitat upon which many different types of creatures depend. Two of the creatures I've been able to learn more about are the horseshoe crabs and the piping plovers.
My second day on the job had me on my hands and knees in the sand, gathering core samples in order to count horseshoe crab eggs. Horseshoe crabs are not only living fossils, but they are not found in California, so I was excited to see them for the first time in the wild! I was also surprised to learn that their eggs are an important food source for many of the shore birds that summer in Jamaica Bay.
On the first day of my second week I accompanied park Resource Management on one of their daily plover counts. The piping plover is an endangered migratory bird that travels from South America to nest on the shores of Jamaica Bay. While Jamaica Bay provides a perfect summer habitat for these annual visitors, it poses challenges for Resource Management. Summer is the time when human visitors "migrate" to the beaches as well. The park does its part to keep humans from inadvertently disturbing the nesting birds by roping off small sections of the beach and dunes where the birds are nesting. They further protect the birds from predators such as raccoons, dogs, and feral cats by putting up small, cage-like structures over the sites where the eggs have been laid. In spite of these protective measures, some nests still fail and predation happens, sometimes even by human hands! Part of the park's mission includes educating the public about the importance of protecting our natural resources (which, of course, includes the endangered plovers). My role as an educator is to extend this mission to my classroom and school, and I look forward to learning more from this urban national park about how best to deliver this message.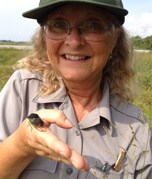 Time has been flying!
Youth groups have started to arrive for summer camping, the public has begun to take advantage of our day programs, I've begun working on my park project and I've had a chance to explore different parts of the city. Gateway is a busy place during the summer!
I had my first experience with the "ranger" part of Teacher-Ranger-Teacher when we had our first camping group. To be honest, this is the best part about TRT. I love going out with the researchers and it's fun to design lessons and programs, but I've always wanted to be a ranger so I could share my love of nature with others. The group was a multi-age group which can be a challenge, but they were all so involved and interested in the camp and our program that age wasn't an issue at all.
The first part of the day I got to test my memory skills about the history of Floyd Bennett Field and Jamaica Bay. I'm fascinated by the story of this area and how the land and its use have changed so much over the past couple hundred of years. I think it's important for our young visitors to realize that this area is reclaimed land, and that current efforts to restore it depend upon public support like theirs.
During the second part of the day I had the opportunity to pilot a summer program I'd revised. Much to my relief, everything went smoothly and the campers gained a new appreciation of some of our insect pollinators, and how important they are to our food supply as well as the environment.
As I've mentioned, time is passing very quickly! I have curriculum to write, programs to present and places to see! I thought a whole summer would be long enough to explore and experience the region. I think I may be wrong! I don't have much time left, and I want to relish every moment!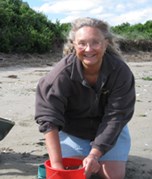 A Fond Farewell!
Well, this has been an educational and event filled summer. As a Teacher-Ranger-Teacher at Gateway National Recreation Area in the Jamaica Bay Unit, I have experienced New York from a variety of perspectives. I accompanied researchers in the field to learn about how resources are managed and protected. I met park visitors and summer campers, and shared with them the uniqueness of Gateway. As a teacher I've had the privilege of reviewing and writing programs about the environment and its resources so that visitors develop a stronger connection and sense of stewardship with the park. Being a first-time visitor to New York, I also experienced buses, subways and "the city", as well as the beaches and urban ecology.
Some highlights of my adventure include:
· Birds. Some of my favorite moments have been listening to and watching the variety of birds on the shore, in the grasslands and uplands. One of my new favorites is the Oyster Catcher!
· Science. I helped count birds, collect horseshoe crab eggs, observe piping plovers and other birds, listen for frogs and trap insect pollinators, all activities that relate to the science I teach in my classes.
· Programs. I've enjoyed the "aha" moments when visitors discover creatures and plants they've never seen before, or see familiar organisms with a new perspective.
· The skyline. I'm awed every time I look across the bay at the various distant structures. So contrasting and beautiful!
· Urban ecology-what a challenge!!
· People. New Yorkers are some of the friendliest people I've ever met, and my park service colleagues at Gateway have made this one of my most fun and memorable summers!
I am anxious to return home and share my insights and adventures with my family, friends, and colleagues, but I'm sad to be leaving so soon (a summer was definitely NOT enough time!). New York has hundreds of historical and modern wonders, and Gateway National Recreation Area is one of them. I have new friends, lots of pictures and memories, and a new world view. I would encourage everyone to sample New York some time in their lives, and teachers looking for an eclectic experience should consider spending a summer as a Teacher-Ranger-Teacher!
Last updated: February 26, 2015