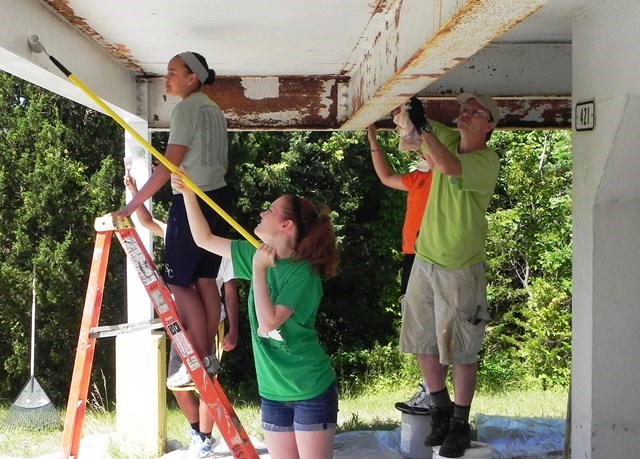 For most of us, summer means relaxing and having fun. For the young people of St. Charles Presbyterian Church on the outskirts of St. Louis, Missouri, it means working hard at a national park over a thousand miles from home—and having fun.
"It's the highlight of my summer," said Randi Andres. "We have so much fun with my friends." Along with eight other youths and four adults, she labored for one week at the Sandy Hook Unit of Gateway National Recreation Area in Middletown, New Jersey. The church regularly sponsors summer youth mission trips, where young people volunteer their time to help others and to learn.
At the Fort Hancock and Sandy Hook Proving Ground National Landmark District, the group's accomplishments include: repairing walking paths through the main post area, repainting radar site structures from the days of nuclear missiles and painting the rails of a floating dock used by thousands of visitors each year.
Pastor Ronnie Osborn asked Darin "Booch" Diana, father of one of the students, to arrange this year's mission trip in the Northeast, an area of the country that most students had not seen before. Diana knew the area, both as a New Jersey native and as a volunteer in the days after Hurricane Sandy, when he brought fuel and milk back and forth to the area. Diana had volunteered with Missouri Stream Team for years but, he revealed, "Hurricane Sandy changed my life." Friends had been displaced; some lost their homes. After the experience he formed his own non-profit, Giving the A.S.S.I.S.T., to help during future disasters. Diana made contact with Gateway's volunteer coordinator though a call to the NPS national office. While Pastor Osborn made most of the arrangements—like having the group stay at Long Branch Covenant Church—Diana drove to Sandy Hook, where he spent a month as a volunteer. Volunteers also came from the International House of Prayer in Clark, NJ to help out during the week.