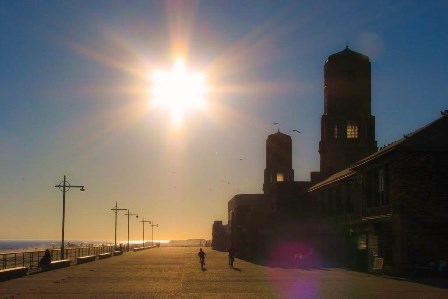 The National Park Service (NPS) is requesting proposals to lease facilities in Riis Beach for adaptive reuse. The facilities offered in connection with the Request for Proposal (RFP) include:
The one story Riis Beach Entry Pavilion and
portions
of the following facilities:
The Bathhouse - Excluding the area on the first and second floor of the east wing that currently houses the NPS lifeguards.
The East Wing Pavilion Building - Excluding the northern half of the building, which contains public restrooms used and maintained by the NPS, and
The Courtyard - Excluding the area set aside for use by the NPS.
The Request for Proposals can be found
here
.
Below are the necessary attachments.
Attachment A Sample Lease Riis Facilities
Attachment B Sample Transmittal Letter
Attachment C Instructions for Financial Forms
Attachment D Financial Forms
Attachment E Plans and Specs for Riis Bathhouse
Attachment E Plans and Specs for East Pavilion Building
Attachment E Plans and Specs for Riis Entrance Pavilion
Attachment F Jamaica Bay Ethnographic Overview and Assessment
Applicants should submit proposals via email, U.S. postal mail, FedEx, or hand delivery. If applicants submit a response by any method other than E-mail, the package needs to contain two paper copies of the proposal, as well as a CD-DVD or memory stick containing a PDF of the entire proposal and including all spreadsheets associated with the required attachments.
Proposals submitted via email can be sent to:
Gateway_BMD@nps.gov (
e-mail us
)
Proposals delivered by any method other than electronic mail must be enclosed in a sealed envelope and the face of the sealed envelop must state the Applicant's name and address. Proposals should be submitted to: