Riis Beach Facilities Available for Lease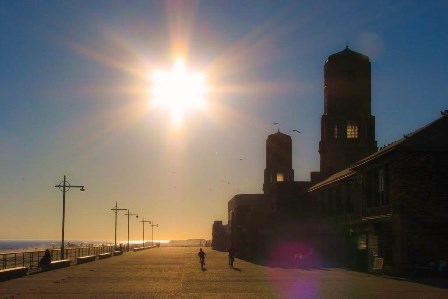 The National Park Service (NPS) is requesting proposals to lease facilities in Riis Beach for adaptive reuse. The facilities offered in connection with the Request for Proposal (RFP) include:
The one story Riis Beach Entry Pavilion and
portions
of the following facilities:
The Bathhouse - Excluding the area on the first and second floor of the east wing that currently houses the NPS lifeguards.
The East Wing Pavilion Building - Excluding the northern half of the building, which contains public restrooms used and maintained by the NPS, and
The Courtyard - Excluding the area set aside for use by the NPS.
The Request for Proposals can be found
here
.
Below are the necessary attachments.
Attachment A Sample Lease Riis Facilities
Attachment B Sample Transmittal Letter
Attachment C Instructions for Financial Forms
Attachment D Financial Forms
Attachment E Plans and Specs for Riis Bathhouse
Attachment E Plans and Specs for East Pavilion Building
Attachment E Plans and Specs for Riis Entrance Pavilion
Attachment F Jamaica Bay Ethnographic Overview and Assessment
Applicants should submit proposals via email, U.S. postal mail, FedEx, or hand delivery. If applicants submit a response by any method other than E-mail, the package needs to contain two paper copies of the proposal, as well as a CD-DVD or memory stick containing a PDF of the entire proposal and including all spreadsheets associated with the required attachments.
Proposals submitted via email can be sent to:
Gateway_BMD@nps.gov (
e-mail us
)
Proposals delivered by any method other than electronic mail must be enclosed in a sealed envelope and the face of the sealed envelop must state the Applicant's name and address. Proposals should be submitted to:
Superintendent
Gateway National Recreation Area
210 New York Avenue
Staten Island, NY 10305
Attention: Bathhouse RFP

All proposals must be received by March 9, 2017, 4 PM.
Last updated: May 1, 2018