Directions and Transportation

Plane
The largest airport is at Charleston, about 65 miles from Summersville. There are also small airports at Summersville and Beckley.

Car
The main entrance to Gauley River National Recreation Area is located off US Route 19 south of Summersville and north of Fayetteville, West Virginia. Turn off US Route 19 onto WV Route 129 toward Summersville Dam. Take the second left after you cross over the dam and follow the signs to Gauley River.
There are three other public access areas to the Gauley River. They are both on river right.

Mason's Branch: Turn off of Route 19 onto Route 129 toward Summersville Dam. Go 9.9 miles west toward Drennen. Take a left onto Panther Mountain Road (County Route 22) in the town of Poe. Mason's Branch public access area is 3.7 miles on Panther Mtn. Rd. then turn left and go another 1.1 miles to access the parking/boat launch areas.
Wood's Ferry: To access Wood's Ferry public access area, continue on Panther Mtn. Rd. another 2.1 miles past Mason's Branch until you reach the parking/boat launch areas.
Upper Swiss: US Rt. 19 to Rt. 129 West. follow Rt. 129 (11.1 miles) to Drennen and the intersection of Rt. 39. Turn left onto Rt. 39 and follow the road for 10 miles- turn left onto South Swiss Road. Follow South Swiss Road approximately 1 mile until the road forks, take the right that crosses over the railroad tracks.Be careful, these narrow roads have sharp curves and poor visibility.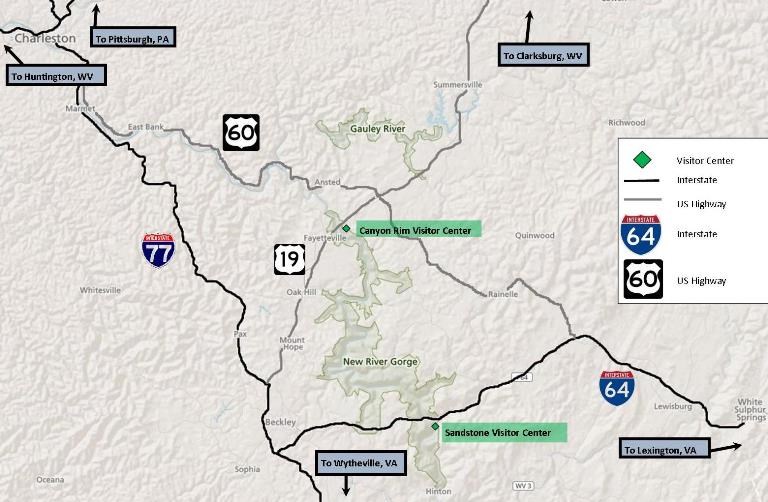 Last updated: March 2, 2021