Rendezvous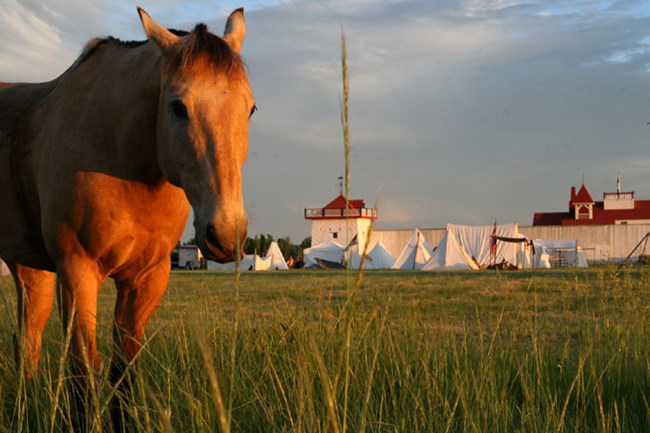 Fort Union Rendezvous
Our next scheduled Rendevous is June 15-18, 2023. Join us and celebrate a 19th Century Fur Trade Fair that includes a variety of period arts, crafts, and music.
This annual gathering is our largest event, a time when Fort Union comes alive and best reflects the busy trade season. Over 100 Re-enactors from across the country and Canada every third weekend in June demonstrating traditional skills and lifeways.
Visitor Information
Fort Union Trading Post NH'S will host the annual Rendezvous, Thursday through Sunday June 16-19, 2022. Mark the dates on your calendar and come and participate in the Upper Missouri's finest fur trade fair at one of the West's most imposing historic sites.

Each day will feature a variety of speakers and demonstrators. As well, our own array of trade goods will be presented in Fort Union's Trade House.
Many favorite demonstrators are returning. In all, it promises to be another grand event!

Thursday June 16th is Kids Day - 10-2. The 2022 Rendezvous will feature an all-new Kids Day with hands-on activities, a scavenger hunt, and new camp demonstration stations!
Participant Information
Are you interested in participating in the Fort Union Rendezvous? Please first read the full Safety and Authenticity Standards for Fort Fort Union Trading Post NHS, and then contact site Volunteer In Parks Coordinator Lisa Sanden at 701-572-1029 x218 or lisa_sanden@nps.gov for more information.

Basic Information
The staff at Fort Union Trading Post NHS seeks a historically accurate depiction of life at Fort Union Trading Post NHS. To that end, certain standards are expected of all participants.

Gear and Clothing
We concentrate on the period 1828-1867. Clothing, camp equipment and materials should be representative of that period.
The primary focus of Rendezvous events is to portray and re-create of historic lifeways and material culture; including activities, camping equipment, fashion, and weapons, common on the Northern Plains during Fort Union's period of significance. We ask that you make friendly, personal contacts with our visitors. Such contacts will help create an interactive learning event.

Interpretive Themes
All interpretation should illustrate the interactions between American Indians from the Upper Missouri Tribes (Assiniboine, Crow, Blackfeet, Mandan, Hidatsa, Arikara and Lakota and Dakota Sioux); the tribes and Euro-Americans (American Fur Company employees, trappers, independent traders, hunters, rivermen, missionaries, slaves, visiting artists and scientists, military personnel, etc.); and among Euro-Americans who lived in, worked or traded at, or visited Fort Union in the early to mid-19th century. You can help our visitors understand what daily activities these people engaged in, what problems and challenges each of them faced, and how they may have dealt with them. You can use your experiences to help bring to life the fur trade story of Fort Union Trading Post.
This event is cosponsored by the National Park Service and the Friends of Fort Union Trading Post, of Williston, North Dakota.
The Fort Union Muzzle Loaders Association will assist the Park Service in policing the camp site.
All participants must sign a VIP volunteer agreement in order to participate and/or camp at Rendezvous.
Help protect and preserve this site's history and resources for future visitors' education and enjoyment while ensuing your own and current visitors' safety.

2022 Campfire Regulations:
Campfire are allowed at Rendezvous within the mown area of camp only.

Fire pits are no longer allowed at Fort Union. In order to minimize impacts to fragile archeological areas, disturbing the soils or sediments for any reason is prohibited.

When setting up camp, please completely encircle your fire area with the available rocks and place a firm layer of sand within the circle to completely cover any exposed ground. Sand will be provided in the Rendezvous area.

Fires may be built to the size necessary for cooking purposes only.

Even if there are no active fire bans in camp, please be careful with all fire and flame, including candles.

Do not leave a burning fire unattended at any tim

Fire extinguishers, water cans and flappers will be stationed at all firewood pallets.

Braziers - Braziers are allowed in camp.

Fort Union has many braziers available for volunteer use, see fort staff to check one out.
Hardwood coal will be provided for braziers.


Self-contained gas or propane fires are allowed
Camp stoves must be small table-top sized, no large BBQ grills will be allowed
Must be hidden similar to all non-period items during the day
Cannot be left unattended while in use (while a flame in present).
2022 Rendezvous Schedule
39th Annual Fort Union Rendezvous, June 16-19, 2022
Public Activities Schedule (Subject to Change)
Park Hours 9:00 – 5:00 Central Daylight Time.
Kids Day Activities
Pick up a information packet and "buffalo robe" at the Information Station located at the back entrance to Fort Union to begin your Kids Day Adventure!

Feel free to do one, some, or all of these activities.

Demonstration Question Scavenger Hunt (10am-1pm CT) 
Go from each demonstration and presentation on the list and answer a special question to receive a stamp. Fill up your buffalo and bring it back to the information desk for a prize.

The demonstrations stations are:
Blacksmithing-blacksmith shop
Guns/Black Powder-front bank
Pottery-Camp awning
Spinning/Weaving-Trader's Row
Buffalo Robe Tanning-Camp
Cooking-Camp
Canoes-Camp
Fur Trading/Sign Language-Camp
 
Arts and Crafts (10am-2pm CT)
Dip Dye Oars a. Next to our canoe expert, Jeff Brown, your child can grab a mini oar and dip it in a stain to remember their time at the fort.
Leather Arrowheads a. Behind the bourgeois house, you can decorate a leather arrowhead with your own design.
Drawing and Coloring Fort Union a. Behind the bourgeois house, you can grab a Fort Union coloring page or draw your own Fort Union picture.
Games a. Play simple and fun games from the Fort Union time period. You will also get a printout of other colonial games to take home.
 
Camp Scavenger Hunt (10am-2pm CT) Grab a scavenger hunt from the information station and answer the questions. Bring it back to the information desk to get a prize.

Feather Kites (1pm-2pm CT) From 1-2, behind the bourgeois house all kids are welcome to make a feather kite craft. The Question Scavenger Hunt will finish, but the other art and craft activities will still continue until 2 p.m.
9:00-5:00       Camp & Traders Row Setup and Operation
9:30-4:30       Trade House Operation, Fort Union Staff
10:00-4:00     Jeff Brown, Canoes of The Fur Trade (Camp Site)    
9:30-1:00       Blacksmithing (Blacksmith Shop)
10:00-2:00     Kids Day (Courtyard)
1:00-5:00       Blacksmithing (Blacksmith Shop) 
2:00               Amanda Watson Spinning Wheel (Camp Site)  
3:00               Chris Floyd, Metis – Fort Hunter (Camp Site)                                     
4:00               Fort Staff, Flintlock Firing Demonstration (Riverbank) 
   
9:00-4:00       Camp & Traders Row Setup and Operation
9:30-4:20       Trade House Operation, Fort Union Staff
10:00-4:00     Blacksmithing (Blacksmith Shop)
10:00-2:00     B. Maxwell, Bison Hide Tanning (Camp Site)
10:00-4:00     Jeff Brown, Canoes of The Fur Trade (Camp Site)                                             
11:00              Amanda Watson, Spinning Wheel (Camp Site)      
11:30              Bruce Bartow, Beaver Skinning (Camp Site)
11:00-1:00      Gordon Lucht, Pottery Making (Camp Awning)                    
12:00              Fort Staff, Flintlock Firing Demonstration (Riverbank)                 
1:00                Darian Kath, Fur Trade Medicine (Camp Awning)
1:30                Bruce Bartow, Beaver Skinning (Camp Awning)        
2:00                Rod Lassey, Historical Talk (Courtyard)
                       "The Most Beautiful Spot We Have Seen on the River; A Brief History of Fort Henry"
2:00                Chris Floyd, Fort Hunter (Camp Site)
3:00                Terry Madden, Frontier Cooking (Camp Site) 
4:00                Erik and Arty on the Upper Missouri (Camp Awning)
9:00-5:00      Camp & Traders Row Operation
9:30-4:30      Trade House Operation, Fort Union Staff
10:00-2:00    B. Maxwell, Bison Hide Tanning (Camp Site)
10:00-4:00    Jeff Brown, Canoes of The Fur Trade (Camp Site)
11:00-4:00    Blacksmithing (Blacksmith Shop)         
11:00            Bruce Bartow Beaver Skinning (Camp Site)  
11:00-2:00    Gordon Lucht, Pottery Making (Camp Awning)
12:00            Darian Kath, Fur Trade Medicine (Camp Site)
1:00              Rod Lassey, Historical Talk (Courtyard)                      
                     "The Most Beautiful Spot We Have Seen on the River; A Brief History of Fort Henry" 
2:00              Terry Madden, Frontier Cooking (Camp Site)  
2:30              Bruce Bartow Beaver Skinning (Camp Awning)     
3:00              Chris Floyd, Fort Hunter (Camp Site)                               
3:30              Amanda Watson Spinning Wheel (Camp Site)
4:00              Erik and Arty on the Upper Missouri (Camp Awning)
All Day          Camp & Traders Row Operation
9:30-4:30       Trade House Operation, Fort Union Staff
10:00-1:00     Gordon Lucht, Pottery Making (Camp Awning)                       
11:00-3:00     Blacksmith (Blacksmith Shop) 
12:00             Amanda Watson Spinning Wheel (Camp Site) 
12:00             Rod Lassey, Historical Talk (Courtyard)
                     "The Most Beautiful Spot We Have Seen on the River; A Brief History of Fort Henry                
1:00               Darian Kath Fur Trade Medicine (Camp Awning)                           
1:30               Chris Floyd, Fort Hunter (Camp Site)                  
1:30               Bruce Bartow Beaver Skinning (Camp Awning)
2:00               Terry Madden, Frontier Cooking (Camp Site)                 
4:30               Fort Staff, Flintlock Firing Demonstration (Riverbank)
Digital Rendezvous - Kids Day
Last updated: September 16, 2022