Digging Down into the Post's Layered Past
The Fort's Buried Histories Unearthed
Fort Union Trading Post NHS's archeological excavations began in 1968 and ran seasonally in 1969, 1970, and 1972. Then in December of 1985, Congress passed a bill that mandated and funded Fort Union trading post's reconstruction. Realizing this action threatened to destroy an important and irreplaceable archeological resource, National Park Service (NPS) leaders instructed their Midwest Archeological Center (MWAC) to salvage as much information as possible from the site. This inaugurated one of the NPS's largest-ever archeological projects.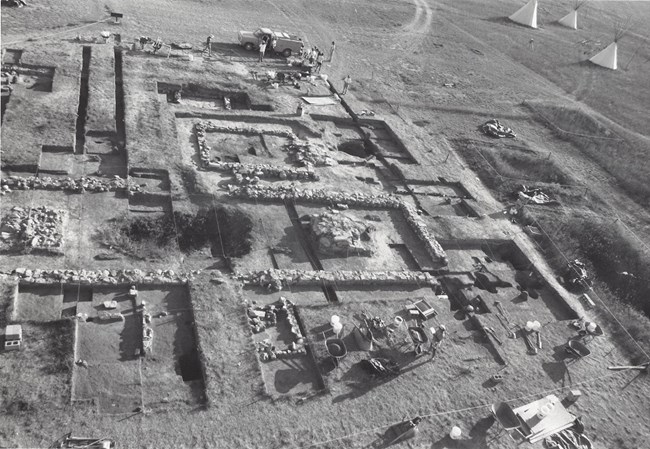 From 1986 to 1988, MWAC archeological teams led by archeologist Bill Hunt conducted large-scale excavations at the Fort Union site. In total, these teams, which included hundreds of volunteers who worked a week at a time, excavated approximately 4,400 square meters of the site. The project's highest priority was the recovery of architectural information to aid in the reconstruction planning done by historical architect Richard Cronenberger. Daily fieldwork, which began with readings from the journals penned by Fort Union employees and visitors like artist and clerk Rudolph F. Kurz., provided archeologists with opportunities to address additional research questions related to the site's cultural history. What, for instance, did the artifacts disclose about post employees' daily routines and diets?
The diversity of recovered artifacts (some displayed in today's Bourgeois House museum exhibits) makes Fort Union's collections one of the largest that spans nearly forty years of the fur trade, 1828–1867. More, however, than the one million recovered artifacts makes Fort Union's excavations remarkable. When one looks at the photographs snapped during the various excavations, the pictures frequently show women working in the excavation plots. In some, women—mostly volunteers like the Willistonite Adrienne Stepanek—are shown pushing shovels into the earth, while in others they are seen pushing wheel barrows or gathered in groups and chatting. This is remarkable because from the 1930s into the 1970s, the historian Polly Welts Kaufman wrote in
National Parks and the Woman's Voice
, the NPS "discouraged women from serving in field positions" in archeology.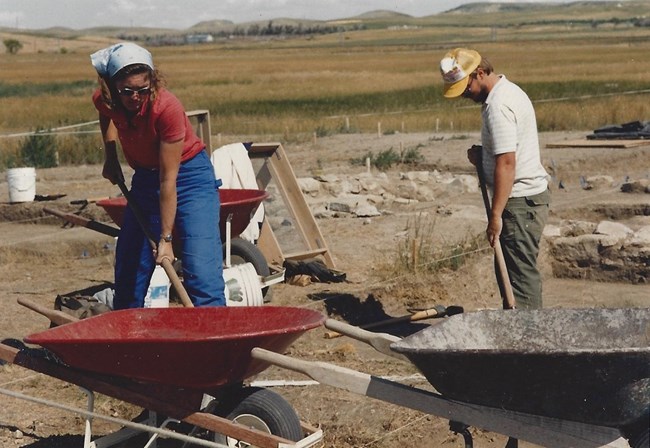 "There is a future in our past," Adrienne Stepanek said during a recent conversation about her experiences participating in the 1986, 1987, and 1988 excavations. At the time, she referred to the values Fort Union today offers the Williston community: a place for children to see and experience the past while doing things hands-on, like painting and drawing. Little did she realize, though, that her own experiences had been a future in the making, an inspiring story of grit, gumption, and the impassioned pursuit of personal fulfillment despite self-doubt about her archeological abilities, fear of making mistakes, and the judgment of others. Our "husbands maybe thought we were nuts," Adrienne added, referring as well to her friend Annetta who also participated in the digs.
Their involvement, which Adrienne called one of her happiest experiences, helped to open the field for women in the future to participate in archeological field work. Her opportunity in turn had been prepared by Adrienne Anderson. In the early 1970s, she had served as Fort Union's lead archeologist, a role that permitted opportunities to pioneer the theories and practices of historic period archeology. Afterward, Anderson rose through the ranks to become the NPS's first female regional archeologist. In that position, Anderson served as a member of Fort Union's 1980s reconstruction team.
Back on the Missouri River's north bank, meanwhile, the volunteer excavators and archeologists' discoveries continually informed Fort Union's reconstruction planning and public education programs. In addition to settling questions about the size and location of the historic fort's palisade walls and dwellings, the excavations revealed what construction methods and materials post builders had employed. Archeologists also discovered the sequence in which the fort's buildings were constructed between 1828 and 1867.
Last updated: April 24, 2021