And to All, a Big "Thank You!"
Community Involvement and Contributions Have Remained Strong to Today
The flagpole in 1985 was only the beginning. In the decades since, the Fort Union Muzzle Loaders Association (FUMLA) and its many Mondak-area members commenced and completed numerous building projects. These projects, only a few of which are illustrated here – bench, boat, fur press, and hunter's shack construction - , added incalculable depth, color, and richness to the fort's reconstruction and visitors' living history experiences, pleasure, and education.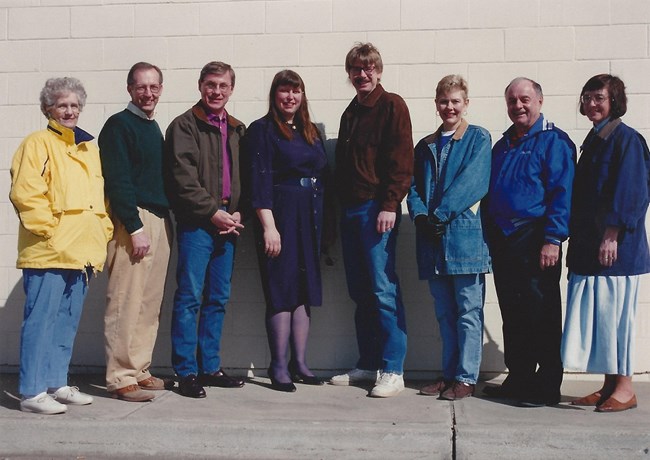 A special thank you to all of the individuals and organizations who contributed to making this exhibit possible:
Fort Union Trading Post NHS staff
The James Memorial Art Center
Adrienne Stepanek
The Fort Union Association
The Williston Convention and Visitor's Bureau
Montrail Williams Electric Cooperative
The Fort Union Muzzle Loaders Association
Carla Kelly
Tarra Craig
Katie Lisenbee
Monica Tininenko
Staff at the Smithsonian American Art Museum
Staff at the State Historical Society of North Dakota
Finally, the Fort Union Trading Post NHS staff invites all community members to contact the park curator to share their stories, memories, and memorabilia concerning the creation and reconstruction of Fort Union Trading Post National Historic Site. Without the committed advocacy and contributions of countless women and men from the Mondak area and beyond, this legendary historic site, a national treasure, would not exist. The fort's heritage is as much yours as it is the nation's. Help us preserve and share your legacy with the "next generation of park visitors, supporters, and advocates."
Fred MacVaugh
Museum Curator
Fort Union Trading Post National Historic Site
15550 Highway 1804
Williston, ND 58801
fred_macvaugh@nps.gov
(701) 572-9083
Last updated: April 24, 2021