The Buildup to Reconstruction
Local Support Drives Reconstruction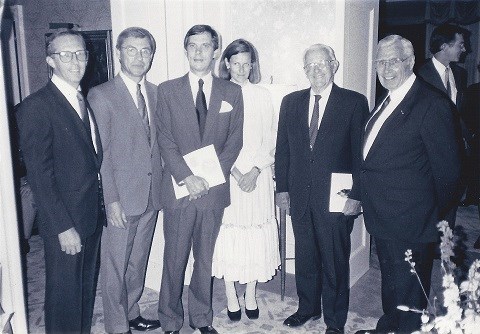 The nation's changing political priorities, miscommunication, and National Park Service (NPS) opposition to reconstruction at the national level delayed significant progress on both archeology and reconstruction for 20 years. Why? Because the historic site's 1966 enabling legislation neither authorized nor funded either archeology or reconstruction. It was during this 20-year period that the Williston newsman and insurance salesman Ben Innis, a passionate avocational historian and historical reenactor, succeeded Connolly as the Fort Union's new reconstruction champion.
Innis' consistent and impassioned advocacy, including constant publicity and letter-writing campaigns, helped Senator Mark Andrews in 1978 win congressional approval for reconstruction over NPS opposition. Another seven years passed before Congress in 1985, again at Senator Andrews' urging, allocated the long-desired reconstruction funds. In the meantime, in the 1980s, Innis and other Mondak-area boosters successfully resisted local and state support for yet one more transportation-related threat to Fort Union: construction of a Missouri River-spanning highway bridge in the vicinity of the historic site.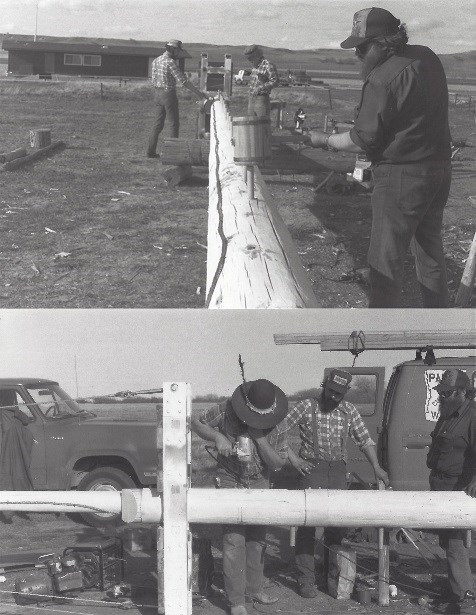 Equally important, before his untimely passing in 1985, Innis had shared his passion with a recent Williston arrival, the young radio broadcaster and newsman Rick Collin. "He was a real inspiration," Collin remembered in an interview. "He really was." Drawing on that inspiration, Collin and his future wife, the former congressional staffer and Williston publisher Andrea Winkjer, joined many others in the region—the Fort Union Muzzle Loaders Association recently revived by David Finders, Williston lawyer Marv Kaiser, Dr. Edward "Bud" Hagan, the new park superintendent Paul Hedren, former Williams County Historical Society president Greg Hennessy, and others—to convince Senator Andrews to secure the funding for reconstruction.
What made that possible? "Well, the major thing is to sustain the local interest," Senator Andrews told Collin after the reconstruction had commenced. "It's because of that local interest, we were able to get Fort Union considered over some 450 sites around the nation. And it's that local interest, that local push, the enthusiasm by people who know the [Missouri and Yellowstone Rivers confluence] area best that's going to keep it moving."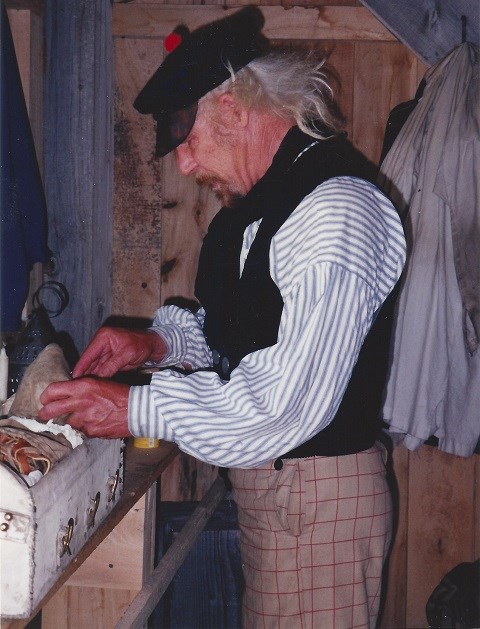 And keep it moving they did. On the Fort Union site in 1985, the Fort Union Muzzle Loaders Association (FUMLA) reconstructed a 63-foot tall flagpole similar to the one Fort Union Bourgeois Edwin Denig had described in 1843. A decade later, Fort Union clerk and artist Rudolph F. Kurz sketched that flagpole. "According to the Muzzle Loaders," former park ranger Carla Kelly wrote around 2009, "donations came from all over town for the flagpole, indicative of community interest that would soon lead to the donation of many more dollars for the fort's reconstruction." More immediately, that flagpole's dedication on July 6, 1985, an event attended by at least 1,500 people, elicited appreciation from President Ronald Reagan. Further, FUMLA's accomplishment catalyzed the efforts of the day's keynote speaker, Senator Andrews; because of the flagpole-raising, he convinced his congressional colleagues to appropriate the needed reconstruction funds. Designed by NPS historical architect Richard Cronenberger, the reconstruction began with the Bourgeois House in 1986 and ended (for now) with completion of the trade house in 1993.
Last updated: December 9, 2017