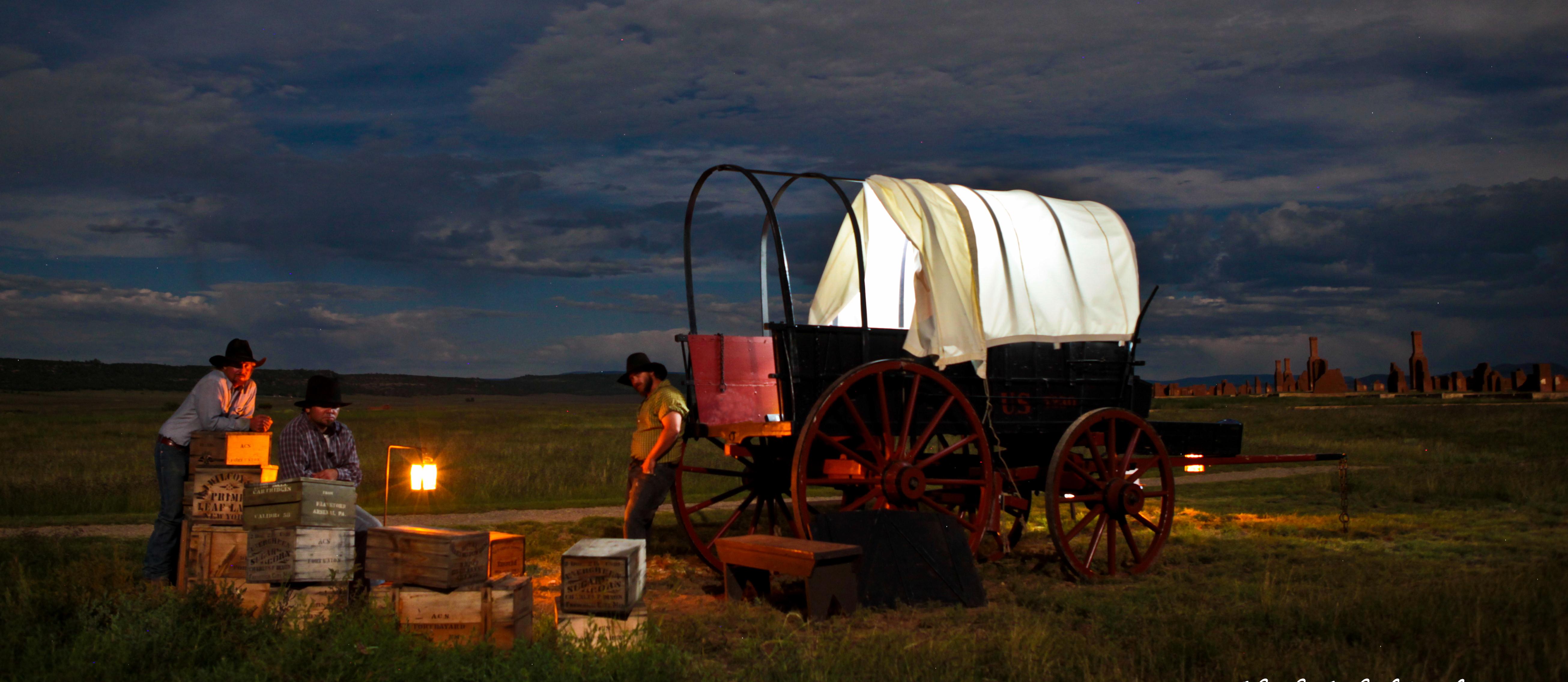 Park Interpretive Programs
Fort Union National Monument is currently in SUMMER HOURS OPERATION. During this time, scheduled interpretive talks, guided tours, are periodocially scheduled, check with the ranger at the Front Dest at the Visitor Center for the programs being offered on the day of your visit. Commercial and school groups numbering ten or more, interested in a formal guided tour, are encouraged to make advanced reservations.
A 1.25 mile, self-guided interpretive trail enables visitors to tour the ruins. Visitors may opt to do a shorter .5 mile self guided tour.
Allow approximately two hours for visit. Please bring sunscreen, water, a hat, and good walking shoes...it's a big fort.
Every Third Thursday of the Month March - October in Las Vegas, New Mexico: Glimpses of the Past Series
Here is the 2017 Fort Union Days Schedule.

Saturday, June 17
9:30 Flag Raising with Cannon Salute
10:00 Buffalo Soldier Talk
11:00 Artillery demonstration
12:00 The Long Walk—Ravis Henry
1:00 Fort Tour
2:00 Victorian Fashion Show
3:00 Musket Firing demonstration
4:00 Artillery demonstration
9:00 – 4:00 Kids' Tent
9:00 – 4:30 Living History camp

Sunday, June 18
9:30 Buffalo Soldier Talk
10:00 Fort Tour
11:00 Artillery demonstration
12:00 The Long Walk—Ravis Henry
1:00 Fort Tour
2:00 Artillery demonstration
3:00 Musket firing demonstration
4:00 Fort Overview
9:00 – 3:00 Kids' Tent
9:00 – 3:00 Living History Camp

Fort Union Days 2017 Schedule (497 kb)
2017 Event Schedule

Junior Ranger Day: April 16
Bring your whole family out for a fun day of learning about Fort Union, the National Park Service and the rangers that work here. There will be a living history demonstration in the morning and a family-friendly tour in the afternoon.
U.S. Citizenship Naturalization Ceremony: May 12
Join park staff and volunteers in welcoming individuals from around the globe as they take the final step to become Citizens of the United States by taking their Oath of Allegiance on the grounds of Fort Union National Monument.

Night Sky Star Party: May 27
Come learn about the night skies over Fort Union and what makes them so special at the special night sky party. There will be a short presentation about astronomy and telescopes to look through. The presentation will start at 7:30 p.m.

Junior Ranger Camp: June 7 (ages 7-8), June 8 (ages 9-10), June 9 (ages 11-12)
10:00AM –4:00PM Geared for the youngest of our visitors, the Junior Ranger Camp is an all-day exploration of Fort Union's unique cultural, natural, and military aspects. Each camp is limited to 20 - so please call to make a reservation. Enrollment will be taken beginning May 1, 2017.

Fort Union Days : June 17-18
The annual Fort Union Days two-day special event will take place on the Fort Union National Monument park grounds, Saturday and Sunday June 17-18, 2017. This year's event will highlight the contributions and heritage of the Buffalo Soldier.

63rd Anniversary of Fort Union National Monument: June 28
Come celebrate the birthday of Fort Union as a unit of the National Park Service. Join us for a special 10:00 am tour and 2:00 pm Ranger Program about the history of the National Park Service.

Night Sky Star Party: July 22
Come learn about the night skies over Fort Union and what makes them so special at the special night sky party. There will be a short presentation about astronomy and telescopes to look through. The presentation will start at 7:30 p.m.

166th Anniversary of Fort Union's Establishment: July 27
Join staff, volunteers, and friends of Fort Union National Monument for a special program and tour in commemoration the 166th Anniversary of the establishment of the first Fort Union.

Candlelight Tours: August 12
Walk under the stars and back into history, to witness historical based skits which bring to life the stories of Fort Union's past. Each tour is limited to 20 – please call to make a reservation beginning on July 15, 2017. Tour times TBA

Camp of Instruction: September 9-10
Step back into history and witness the training of Company "A" of the 3rd New Mexico Volunteer Infantry, one of many Union Hispanic regiments organized at Fort Union that once defended the New Mexico Territory during the Civil War.

First Fort & Arsenal Tours: September 16
Only open to the public once a year, the First Fort and Arsenal site offers the unique opportunity to walk the grounds where Fort Union's legacy began in 1851. Visitors will be led by car caravan from the visitors to the First Fort and Arsenal site. 1st Tour 9:00 AM, 2nd Tour 10:30 AM, 3rd Tour 12:15 PM, Final Tour 2:00 PM
2017 Event and Glimpses of the Past Schedule