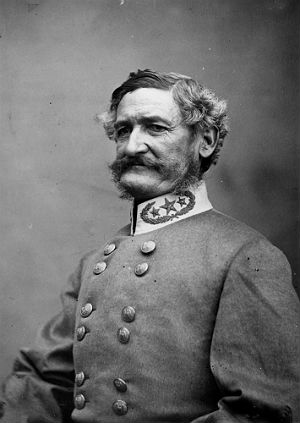 Situated in the valley east of the first Fort Union, the massive earthen fortification began to take shape in July 1861. Earth parapets formed a square with angles shaped like arrowheads shooting out 200 feet from each corner. Located in these star points were storehouses, company barracks, and officers' quarters. The parapets supported firing platforms and artillery emplacements. Four other angles served as curtains against enemy fire. The structure resembled an eight-pointed star.
An officer proclaimed that it was "as fine a work of its kind as I ever saw" and stated that "all Texas can't take it." Another conclusion was reached after a cannon was fired from atop the mesa to the west. He confirmed that "the work has a dip toward these hills which causes its whole interior to be revealed." This meant that not only could enemy artillery reach the fort, but their mounted guns could not reach the mesa, where attackers would most likely place their cannon. In addition, the star fort did not offer improved living conditions. Like the first fort, the quarters and storehouses were made of unbarked pine logs that quickly rotted and housed nesting insects. Underground rooms were damp and unventilated. With rain the dirt floors quickly turned to mud. Consequently, most of the soldiers camped in tents surrounding the fort. Work continued on the second fort until June 1862. By then New Mexico's fate had been decided. There was no longer any need for such a fortification.
Brig. Gen. Henry H. Sibley's brigade marched north from Fort Bliss in January 1862, aiming for Albuquerque, Santa Fe, Fort Union, and eventually Denver. By March 5 the Confederate Army had taken the capital of Santa Fe. Only Fort Union stood between them and Denver. Soldiers from Fort Union joined forces with New Mexico and Colorado Volunteers, and headed south to meet the Confederate Army at Glorieta.
The Battle of Glorieta Pass, fought from March 26-28, 1862, was the decisive battle in the New Mexico Campaign during the Civil War in the West. Union forces, under the command of Col. John P. Slough, 1st Colorado Volunteers, and under the direction of Maj. John M. Chivington, 1st Colorado Volunteers, successfully defeated the Confederate forces. With the loss of Sibley's supply train went the "grand design for the Confederacy in the West." The Battle of Glorieta Pass had successfully eliminated the Confederate threat in the western territories.