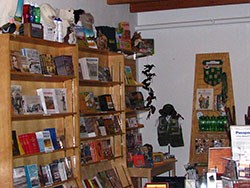 Western National Parks Association is a nonprofit organization assisting the the National Park Service. Known as a "cooperating association," WNPA'S goals include enhancing visitors' understanding and appreciation of public lands by providing a selection of quality, educational materials for sale in many visitor centers. Headquartered in Tucson, Arizona, the association was founded in 1938 as the Southwest Monuments Association to support the interpretive activities of the National Park Service.
Our park store features an array of fun and exciting materials for all ages and interests, such as military history, women's history, Native American history, nature, memiors and much more!
To learn more, shop online or become a member, visit www.wnpa.org. Staff are also available by phone during normal business hours at (505)425-8025.