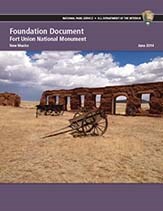 The park completed its Foundation Plan in September of 2014. This one year project incorporated current and past comments from park partners and stakeholders, and was the result of a staff planning effort in 2013.
The document is easy to read, with outlines, goals, and plans from other management plans.
Every unit of the national park system will have a foundational document to provide basic guidance for planning and management decisions—a foundation for planning and management. The core components of a foundation document include a brief description of the park as well as the park's purpose, significance, fundamental resources and values, other important resources and values and interpretive themes.
We think you'll find this an easy to read document that will help get you up to date on our goals and aspirations for Fort Union National Monument's future.