Places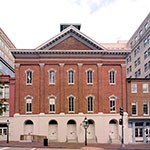 Ford's Theatre
The Ford's Theatre building was first constructed in 1833 as the First Baptist Church. In 1859, the structure was abandoned as a place of worship. John T. Ford, a theatre entrepreneur from Baltimore, leased the building in 1861. A church board member predicted a dire fate would fall anyone who turned the former house of worship into a theatre. In 1862, Ford renovated the theatre and performances began, setting in motion events to follow that would shake America to its core.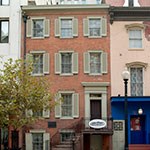 The Petersen House (The House Where Lincoln Died)
After President Abraham Lincoln was shot he was carried across the street to the home of William A. Petersen, a German tailor. He lay dying diagonally across William T. Clark's bed in a room in the back of the house. Originally built in 1849, the house was expanded in 1858 to accommodate its use as a boarding house. The night of Lincoln's assassination, over 90 people streamed through the small house to pay their respects to the dying President.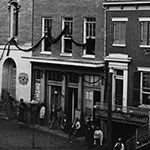 The Star Saloon
John Wilkes Booth entered the Star Saloon, located next to Fords Theatre, and had a drink of whiskey and water. Soon after, he entered the Theatre to assassinate the President. Built in 1863, the Star Saloon closed after the assassination. It was later used as a tailor shop, typewriter company and a factory before it was torn down in 1930.
Last updated: April 15, 2015